Hi! I hear you're visiting Hong Kong, you've been out for the day – doing something dull like shopping, or vastly more satisfying hiking and sightseeing – and now youve energy to spare, and you want to see what the city has to offer at night. It's almost dusk, and Hong Kong's nightlife is just getting underway. But for the time being, the main bars in Lan Kwai Fong, especially, mostly host suits clutching beer in small bottles; those that have sprouted just above, along Hollywood Road, are likewise on the pricey side. So we'll avoid them, and do something different (though if you really fancy a drink right now, I suggest Wanchai – Carnegies, say, for Crazy then Happy hours).
We'll ride the Peak Tram, up Victoria Peak. This is a cracking trip, with high-rises slipping away and seeming to tilt sideways as the tram climbs. There are viewing galleries at the station, where you can peer down on the city below.
Compact Hong Kong good for night owls
But there's a more spectacular viewpoint nearby. A right turn from the station and a ten-minute walk along a level footpath lead to a vantage overlooking the harbour and its surrounds. In the early evening, the scene is astonishing, with buildings aglow, boat lights tracing patterns over the water. From here, you can appreciate how compact Hong Kong is at its core – which helps night owls, as you rarely have to travel far between the chief haunts.
Making things even easier, there are clusters of bars, restaurants and other nightspots. The best known is Lan Kwai Fong, on the fringes of Central – you can't really make it out from here, but it's in front of the Bank of China Building. It veered towards being upscale, perhaps was too self-satisfied overall, but could party into the small hours: past tense here, as in 2012 Lan Kwai Fong is in transition, with key buildings being demolished to make way for an entertainment tower or two. For now, there are bars etc, but Lan Kwai Fong has nigh on lost its mojo: whether it can rise again remains to be seen. [2023 update: like much of Hong Kong, malaise hitting nightlife here; covered in this CNN article: This city never slept. But with China tightening its grip, is the party over? Never mind jumping straight to that, though; some info below will be helpful, while some indicates what was… And, we might hope for a resurgence, sometime, maybe.]
Closer to us is the newer SoHo, which has become an in-place for evening drinks and dinner. Out near Central Plaza – the building capped by a glass pyramid and a pole with four lights – is Wanchai, where nightlife is distinctly earthier.
Across the harbour, Kowloon is dotted with all manner of restaurants, pubs and clubs; some are aimed at locals, while others have more international appeal, including those grouped along the traffic-free Knutsford Terrace – which is like a modest version of Lan Kwai Fong.
Right! – enough scenery and healthy living already! It's time for dinner, to fuel our gallivanting. You want scenery with your main course? – we could try restaurants at and near the Peak Tram station. Or we'll head for SoHo, perhaps for a cozy Italian meal.
Dinner over, the city awaits. There's a whole spectrum of possibilities for different nights out: maybe focusing on watching jazz or a classical music concert, or singing karaoke, or waiting till much later to join the smiley glo-stick wavers in a rave party, perhaps with a renowned DJ mixing the tracks. Tonight, though, lets sample some bars, then a disco or two, or three.
Lan Kwai Fong a launch pad for tours of Hong Kong bars
We'll start in Lan Kwai Fong. The suits should be heading out or chilling out by now, and party people should be arriving to claim the night.
Lan Kwai Fong was a top place for people watching. Though California, one of the bars that helped transform Lan Kwai Fong from a nondescript backwater to a hub of Hong Kong nightlife, has shut down (and the building here has been demolished), there are various classy joints that are very much a place to see and be seen. But for writing types like me, the prices are painful, so unless its Happy Hour I prefer to glance at the beautiful people, and walk on by.
Not that prices elsewhere are always so wonderful – Hong Kong by night is an expensive place. I reckon the best plan for nocturnal roaming is to make the most of happy hours and any other offers, and to drink little when and where a couple of rounds cost something akin to the GDP of Belgium.
If feeling like skinflints just now, we can buy drinks from a take-away food place, and mingle with the folk who are standing in the street. This street's narrow, closed to traffic, and turns abruptly uphill, ending at a junction that marks the upper corner of Lan Kwai Fong. You could stroll up it in a minute or so, and turn right, then down, to return to the corner where California once stood.
It takes only minutes to make a complete circuit of the heart of Lan Kwai Fong – past bars as varied as their drinks menus, plus the building site. Add a jaunt up a side alley – Wing Wah Lane, also known as "Rat Alley", and we could cover Lan Kwai Fong in little more time than it takes to say its name.
What a waste that would be! If you want to say you've been out on the town in Hong Kong, you must have done more in Lan Kwai Fong than walk quickly round. We should make for a bar like Dolce Vita, for street watching during Happy Hour.
Its a grand spot for watching mainland tourist groups shuffling through, looking at people in bars almost as they might peer at creatures in a zoo, and taking souvenir snaps – and perhaps wondering what on earth the fuss is about, as the Fong is often pretty quiet in early evenings.
Then, maybe to a pub, like Hong Kong Brew House at the top of this street – where there are a few locally brewed ales to sample, and you can crunch on peanuts and toss their shells on the floor.
There are bars that specialise in certain kinds of booze; Schnurrbart is the place if you like schnapp's. Rat Alley has a cluster of restaurants, with tables packing the area between them – and can be a lively place for al fresco dining.
How are you feeling? We could stay on in Lan Kwai Fong, and later head for Insomnia, which can be packed and bouncy when the band plays.
Or just above Lan Kwai Fong, an array of new bars and small restaurants lines Wyndham Street – though this is a busy traffic artery. Another strike against it, perhaps, is that prices are much as in Lan Kwai Fong; albeit it could be good for hanging out if you like to see and be seen.
Onwards – to Wanchai bars and clubs
Otherwise, let's hail a taxi, and make for Wanchai – asking for Lockhart Road.
Clambering out of the taxi, we're in a different world. The road is lined with bars with names like Romance, the Panda Club, and Hawaii. These are the girlie bars, in the district made famous and romanticised in The World of Suzie Wong.
But Hong Kong-born Suzie doesn't work here any more; Thai and Filipina girls dance on small stages and flirt with the male customers. If you're a guy, you might want to check out one of these bars – but unless you're feeling flush, take care if you're asked to buy a girl drinks so she'll sit with you, as bills can balloon rapidly. (See if you can get away with buying her a drink at half the listed price, not that I told you this of course.)
While their gaudy neon signs make the girlie bars prominent, theyre far from the only places to try in Wanchai, which is no longer just a magnet for what one writer of a letter to the editor called "Lockhart Road lotharios".
Sprinkled amongst them are regular bars, including the Old China Hand – a Wanchai stalwart that's enjoyed a new lease of life since being opened to the world by removal of the front wall. Several bars have opened here recently, making Wanchai far more than a place for the GBs (Girlie Bars).

But it's time to try somewhere more boisterous. Like Carnegie's, a pub where devil-may-care customers dance on the bar .
Dusk Till Dawn used to be another good bet – crowded even when other places were quiet, with Filipino bands belting out impressive renditions of chart-topping hits; it seems to have lost its verve lately, but it may be worth popping your head in the door. Just along the opposite side of the street is Joe Banana's – an almost legendary disco pub thats been reinvented, and is good for cocktails, especially at Happy Hour. New bars and discos have opened just above this.
Cross the road again, and there's Amazonia, where more bands imported from the Philippines play rock that tends to be a decade and more old, and is sometimes almost spookily close to the originals ("Ground Control to Major Tom", say).
There are discos here, too – mostly up or down short flights of stairs. Like the girlie bars, they hail from an era when Hong Kong was a major R&R stopover for servicemen fighting in Vietnam.
With clientele dominated by western men and South-East Asian ladies, they can be entertaining. Neptunes and Makatis are worth checking out; Neptunes is usually better after midnight.
If you prefer swanky to seedy – and perhaps a crowd sprinkled with faces fresh from school, Tribeca in the Renaissance Harbour View might be worth a try. It has a small dance floor as you walk in, a larger one with different music in the next room, and side-rooms dedicated to karaoke.
Many discos close by 4am. But some just keep on going. Galaxy, in Wanchai, may come alive now, as ultra night owls arrive from raves and discos that have shut, and the music perhaps shifts from classic disco to hardcore house. (This was formerly called Strawberry, of which a newspaper wag once wrote, "Women with a past and men without a future grope and shuffle on the dance floor.")
If Galaxy's good, we might find ourselves staying so long that we stumble out into daylight. Sparrows are chirping; newspapers are on sale; people are going to work. I've heard that Home, near Lan Kwai Fong, is a prime place to make for if you want to carry on partying till mid-morning; the Bridge (pub) in Wanchai has lately become another place for dancing while its daylight. You can head there if you wish. As for me – I've got other plans; I know where I'm headed.
I'm going to bed.
Here's an entertaining clip on drinking and nights out; not from Hong Kong, but some things familiar: www.byturen.com (try mouseover with the video; I've just found it's an advert from a bus company, asking at the end if it's time to get home).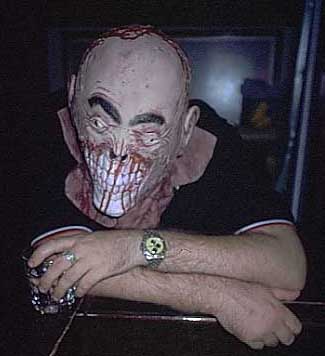 Hong Kong is far more than a modern metropolis; the territory [Special Administrative Region, or SAR] boasts some wonderful countryside, with…