Rural Hong Kong is as compact and varied as its urban counterpart, with a host of marvellous places to visit, and trails to explore.
On the Slopes of Tai Mo Shan
Hong Kong's highest mountain, Tai Mo Shan, dominates the landscape north of Kowloon. On clear days, you can see the hulking cone of its upper reaches from way across the harbour, looming over a range of lower hills to form a splendid backdrop to the city.
Seen up close, the mountain seems austere. The slopes are covered in hardy grass, and dotted with huge boulders; there seem to be few attractions save wild upland walks. This appearance is deceptive: Tai Mo Shan has plenty to offer, including one of Hong Kong's finest places.
No fanfare is made about this place, which lies tucked away on Tai Mo Shan's northern slopes. A map notes the location of "Ng Tung Chai Waterfall"; signs point the way along trails leading there. Take the high route to it, and you pass the summit of Tai Mo Shan, drop down grassy slopes, angle along a hillside, and enter a wooded ravine, where the scenery abruptly changes. A stream tumbles beside the path, then fans out across a steep rock face at the first of three impressive waterfalls.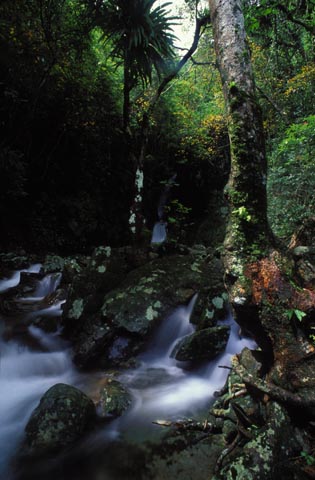 Cross the stream below this, clamber down a rough track and round a corner, and you discover the Main Fall, a column of water that drops thirty metres or more into a deep pool. Dense forest surrounds the fall. There are few sounds except for bird calls and the rush of the water as it plunges over the cliff and, soon after, vanishes into a mini chasm. This seems a wonderfully secluded place. [Photo here shows the Lower Fall, further down the ravine.]
Yet no part of Hong Kong is truly remote. According to a mock signpost to points around the globe that some wag has placed on a ridge above Ng Tung Chai, Wanchai is just eleven miles away.
Rural Hong Kong is as compact and varied as its urban counterpart. There's a host of marvellous places to visit, and trails to explore. Many of the best of them lie around and east of Tai Mo Shan, where there are more impressive hills—and more waterfalls—as well as forests, old villages, and superb beaches set in sheltered coves. Much as at Ng Tung Chai, there are places to surprise even people who think they know Hong Kong well. While for those who barely know Hong Kong, the first surprise is surely that there is any decent countryside left at all.
I'd been in Hong Kong more than five years before a tip-off from a friend prompted my first trek through Ng Tung Chai. But I went to the Tai Po Kau Forest Reserve, low on Tai Mo Shan, during my first few days in the territory. Birds were the chief draw: the forest is one of Hong Kong's best sites for my hobby-cum-obsession, birdwatching. Residents include brilliantly coloured minivets and sunbirds; outrageously plumaged flycatchers occur on migration.
Among mammals, the only ones that are easy to see are monkeys. Wild boar must be common as well, as I often see where they've been rooting. Once, I startled a barking deer, which dashed into cover. Pangolins and civets are also reported. There are plenty of snakes, too, though I rarely see them.
But you don't need to be a dedicated naturalist to enjoy Tai Po Kau. The forest covers the sides of a valley that's like a shallow basin. There's an excellent trail system, with the two shorter routes looping up, across a stream, and back through the best of the forest. They start only a few minutes' walk from a busy highway, but you soon forget about this and the rest of the city as the paths tunnel through trees and bamboo thickets, and you hear birds like the every cheery chestnut bulbuls.
Near Tai Po Kau is another tract of forest where the trails are also easy, the main one meandering alongside a large reservoir – Shing Mun. Hardened hikers, meanwhile, can head for more challenging routes that lead up and over hills and ridges.
The longest of these is the 100-kilometre Maclehose Trail, which crosses the New Territories from east to west. Mostly, people cover this in sections—a leaflet suggests the total hiking time for the trail should be 35 1/2 hours. But each autumn, teams of four compete in a charity race along the Maclehose Trail—the quickest of them run most of the way, reaching the finish line in barely over 14 hours (the record is 11 hours 56 minutes, set by a team of Gurkhas).
Every time I walk along a stretch of Maclehose Trail, perhaps puffing and panting my way up steep parts, I think of those super fit runners dashing along. But I have been up summits that the Maclehose Trail skirts. One of these is Lion Rock, immediately north of Kowloon.
Lion Rock surprised me when I first climbed it. I'd been familiar with its resting lion profile viewed from below, and figured it was fairly gentle. The approach took me from woodland to stark hillsides, then up steep, rough steps. Arriving at the top, I found myself above an abrupt cliff. Kowloon lay stretched below me, the traffic small as toy cars. There was only a murmur from the city; around the peak, swifts circled in pursuit of insects carried in rising air.
Ma On Shan
Ma On Shan is even better. It does look dramatic from below, a brooding massif capped by great fists of igneous rock. The Maclehose Trail runs in towards it from the east, slow and easy at first, allowing a chance to enjoy views over the sea and islands close by. It dips, becomes a forest path, climbs, and crests a ridge with Ma On Shan standing defiantly ahead. Then, there's a haul to another ridge, where even the Maclehose Trail gives up and turns away.
There are no more trees here; the wild, grassy land reminds me of the moors of my native England. The main summit of Ma On Shan is stark and craggy, reached by a narrow path along which you must sometimes use your hands to pull yourself up, and not wonder too much what might happen if you lose your footing.
The view from Ma On Shan is magnificent. There are nearby peaks and valleys, distant towns and islands, and the expansive, hilly Sai Kung Peninsula rippling eastwards into the South China Sea.
Sai Kung Peninsula
Seen on a map, the Sai Kung Peninsula is an odd shape, like a grossly distorted, stubby hand. From the narrow wrist, it billows out, spraying fingers of land that cradle deep inlets. It's crisscrossed by hill and coast paths. But there are few roads, all of them narrow, and mostly restricted to drivers with permits. There are no towns, and while some villages now boast brand new Spanish style villas, others are in decline, or were deserted by former farmers who left for life overseas or in urban Hong Kong.
One of the abandoned villages, Sheung Yiu, is now a folk museum. Inside the short terrace of houses are some of the original beds, tables and agricultural equipment. Outside is an old kiln, where the villagers once baked shells and corals to make lime. Most interesting, perhaps, is the way the houses are on a raised platform, and accessed by a gateway through a watchtower—a reminder that life in rural Hong Kong was punctuated by feuds and attacks by bandits.
Thanks to the scarcity of roads, setting out on the peninsula's trails can mean a long hike before you reach somewhere with transport links, or even pass a basic shop or restaurant. There is, though, a relatively short, rewarding route to Tai Long Wan (Big Wave Bay) in the east. I last hiked it during one of Hong Kong's baking summer afternoons.
I started from a small ferry pier, and was soon on a long, sustained uphill path. Low shrubs offered only feeble shade from the sun; between them, the air was listless and clammy. Still, I thought, there would be a breeze once I reached the ridge above. There wasn't. But from the ridge, I looked out over a natural amphitheater, with hills sloping down to a long bay guarded by imposing headlands. Down the path, I was soon at a tiny village, and joined other hikers in the shade of a rough and ready restaurant by a long, sweeping beach.
For a while, I was content to sit and look at the view, slake my thirst with water and down a chilled beer. Feet itching again, I set off up a nearby path. It seemed unpromising at first, but my map showed it crossing a tiny headland and I was very quickly above another, even longer beach. Here too, the sand was white, the water an unlikely aquamarine blue. Behind the beach were overgrown, long abandoned fields; hills rose steeply behind them.
It was late in the day when I left Tai Long Wan; the sun was setting as I reached the ridge. From the pier, I caught a motorised sampan across a lonely inlet; only the boat's movement and the sound of the engine broke the stillness.
For more info on the wilder side of Hong Kong, see another website I've done: Hong Kong Outdoors.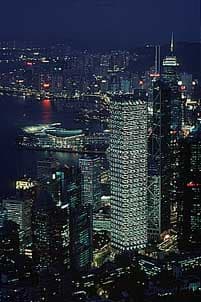 Hi! I hear you're visiting Hong Kong, you've been out for the day – doing something dull like shopping, or vastly more…