Far too often, Hong Kong is portrayed as a rather one-dimensional destination for visitors – a "world city" with shopping and dining, a little sightseeing, and more shopping and dining. Okay for a stopover between visiting some truly fascinating parts of Asia, but not somewhere you'd want to spend more than a day or two.
Yet Hong Kong has much to offer. There are beautiful beaches, gentle forest trails, challenging hill walks, South China villages, clusters of islands and islets, diverse wildlife including globally rare birds, corals and the world's pinkest dolphins. Plus, of course, there's the city itself – with gleaming skyscrapers, streets festooned with neon signs, neighbourhood markets and, yes, a host of shops, restaurants and bars.
To appreciate some of Hong Kong's striking contrasts, ride up the Peak Tram, a cable railway that climbs the steep north slope of Hong Kong Island's highest hill, Victoria Peak, often known simply as the Peak. The tram starts near the main business district, and high-rises seem to lean backwards as it ascends. Soon, there's lush greenery on either side, and the tram arrives at the upper station, around 400 metres above sea level.
On a clear day, there are marvellous views over the city that's packed along the coastline, and across the harbour to Kowloon, where it seems buildings and roads occupy every square centimetre of a low peninsula. Beyond Kowloon, green hills march along the horizon. For more expansive views, and to escape crowds thronging the tram station's observation decks, walk west, along Lugard Road.
For most of its length, this is a narrow footpath that hugs contours round the Peak. There's a section where the path is suspended over the plunging slopes – a favourite spot for photographers shooting picture postcard images of harbour and city.
More hills appear to the west: they're part of Lantau, Hong Kong's largest island. The path tunnels through dense forest, and curls round to the southern slopes of the Peak – where it's called Harlech Road, and the scenery is no longer dominated by city, but by green hillsides, and islands in the South China Sea.
Central – Hong Kong's main business district
Taking the Peak Tram back down to the city, consider that soon after Hong Kong Island was ceded to Britain in 1841, British foreign secretary Lord Palmerston called it "a barren island, which will never be a mart of trade." Ah for a time machine, to transport him to today's Hong Kong! Soon, you're back at the hub of one of the world's great trading centres, with office towers and bank headquarters soaring skywards, the stock exchange a few minutes' walk away.
There are older buildings, too. The exquisite St John's Cathedral dates from 1847. Beside it, the Court of Final Appeal is now based in the former French Mission Building, which like the cathedral is a declared monument in a territory that typically shows little regard for history.
A path from the cathedral drops down from the cathedral, below big old banyan trees, towards the Hong Kong and Shanghai Bank headquarters. Designed by Norman Foster, this was the most expensive building in the world when completed in 1985, and even today its modular design is striking – walk through the ground floor, and you can peer up through the hollow interior. In front of the bank, a neo-classical building is home to Hong Kong's Legislative Council.
Wanchai – and across Victoria Harbour to Kowloon
Until evening comes, that's probably all you need to see of the main business district, Central – you can leave it to the suits and the office drones, and head to somewhere with more character. Somewhere such as Wanchai, which is a little way to the west.
Wanchai was famous – or infamous – as an R&R destination for US soldiers during the Vietnam War, and as the setting for The World of Suzie Wong. There are still strips of pubs and "girlie bars", but today's Wanchai is chiefly a mix of modern city and neighbourhood district. The grand Convention and Exhibition Centre dominates the waterfront. Just in front of the centre, on the night of 30 June 1997, there was a ceremony as Britain returned Hong Kong to Chinese rule.
Away from the waterfront is a bustling street market, with rows of stalls selling meat, fish, fresh vegetables, clothes, bags, toys and Chinese ornaments. Walking around here, you might come across a nondescript street called Spring Garden Lane. Its name harks from an era in the early decades of the British colony, when governors lived here and the gentry promenaded by the harbour. A nearby temple looks as if it might have been transplanted from old China, complete with trees and boulders by its side. When the British first arrived, it stood just above the shoreline, yet much of Wanchai now lies between this temple and the current waterfront, on reclamations that have transformed the coast.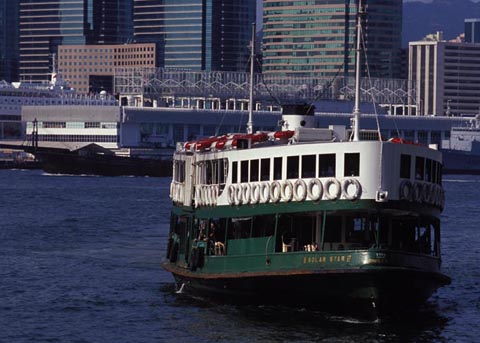 Reclamation work is ongoing. Ride the Star Ferry across to Kowloon, and you'll pass barges at work on converting more of the harbour into highway and buildings. The ferry quickly arrives at Tsim Sha Tsui, a key district for tourists, with shops selling photographic and audio gear – beware of being cheated in the flashiest shops! – and others with Chinese style souvenirs and cheap clothing. Deeper into Kowloon, you can explore the street markets and their surroundings in Mong Kok, and halt for a drink at a streetside stall, to watch life in one of the world's most densely populated districts. Here, it may seem hard to believe that just a few kilometres away are places where few or no people live today, in the rural New Territories.
Sightseeing in Hong Kong's New Territories
No longer new – they were leased from China in 1898, for 99 years – the New Territories cover a swathe of land north of Kowloon, and over 200 "outlying" islands and islets. Agriculture once predominated, with rice grown almost everywhere there was level ground, fruit trees and tea cultivated on the jumble of steep hills. But farming became uneconomic, and many people abandoned their villages for city life. Today, there are large modern towns in the most accessible parts of the New Territories, but you can also visit areas where you can walk for hours and see almost no one.
There's a superb network of trails, along which you can walk through regenerating sub-tropical forest, hike along ridges and over craggy hilltops, and visit inlets with hamlets and beaches that seem hidden from the outside world.
The loveliest of these beaches are at Tai Long Wan – Big Wave Bay, in the eastern New Territories. It takes some effort to reach them from the city, travelling by bus, then hiking for over an hour, but the effort is well rewarded. There are three beaches in a natural amphitheatre, with hills to the west, and headlands to north and south. The main beach is over a kilometre long, yet there are no buildings beside it, and on weekdays it may be empty save for a few feral cows chilling out by the small dunes. There are a couple of rustic restaurants by the southern beach; ideal places for a lunch with a view. Two rustic restaurants by the southern beach are ideal places for a lunch with a view.
There are tougher treks to other spectacular destinations, such as the summit of Ma On Shan, which is capped by a great fist of volcanic rock, and a series of waterfalls in a ravine cut into Hong Kong's highest mountain, Tai Mo Shan. But some wonderful places are close to roads, like the picturesque waterfalls at Bride's Pool, and nearby Luk Keng village.
Set at the foot of hills, next to level land that was transformed into rice paddies, Luk Keng is one of the finest old Hong Kong villages. While in mainland China old superstitions were frowned upon, rural traditions survived here – there are shrines beside old trees, paintings of door gods guarding houses from evil. The long-abandoned paddies are now marshy, and frequented by egrets and cattle. Only a few old people still live in the village.
Forests, birds, dolphins and islands
The forests that are reclaiming many of Hong Kong's hills are home to wildlife including leopard cats, wild boar, porcupines and pythons. But most animals are very shy. To see some of them, visit Kadoorie Farm and Botanic Garden, where animals that have been rescued are cared for, perhaps before being returned to the wild. Kadoorie Farm is in a beautiful setting, plus you can enjoy seeing orchids and other flowers.
North past Kadoorie Farm, right on the border with mainland China, is an internationally important wetland, Deep Bay. The Mai Po Marshes reserve here is a magnet for birdwatchers, as it annually holds great flocks of waterbirds, including endangered species such as black-faced spoonbill. The bay opens into the Pearl River mouth, where you could take a boat ride in search of Chinese white dolphins – when adult, these are bubble-gum pink.
The dolphins are mainly seen off Lantau, Hong Kong's largest island.
On Lantau, too, there is much to discover. Journey beyond its tourist magnets at Ngong Ping – notably the Big Buddha statue – and you'll find majestic scenery, a coastal village with stilt houses lining a creek, a tranquil white sand beach, and water buffaloes grazing in damp old fields.
The smaller islands also have much to offer, ranging from Cheung Chau with its dense village of fisherfolk and commuters, to Tung Ping Chau with mostly abandoned hamlets, and plentiful corals close inshore.
After exploring even the farthest flung parts of Hong Kong, you can return to the city, perhaps to savour a gourmet dinner before drinks in one of the many bars. If you still have energy, there are clubs where you can party till dawn – before enjoying more of multi-faceted, many splendoured Hong Kong.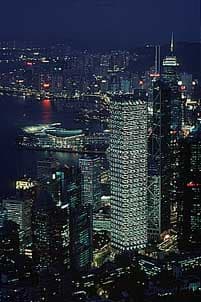 Hi! I hear you're visiting Hong Kong, you've been out for the day – doing something dull like shopping, or vastly more…