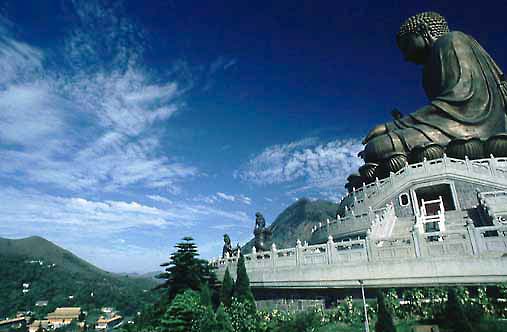 If you're about to land at the new airport and you know little of Hong Kong save the concrete and neon land "where east meets west", you're in for a surprise. Mountains rather than high-rises dominate the view — especially to the south, where you might glimpse a giant Buddha perched on a hilltop.
The Big Buddha at Ngong Ping is one of the most distinctive landmarks on Hong Kong's largest island, Lantau (爛頭). Take a train, bus or car from the airport to Kowloon or Hong Kong Island, and you'll quickly cross to Lantau, then follow its old northeast coastline before a suspension bridge plunges you into the city.
There isn't much to see of Lantau along this route bar a characterless looking new town, and hillsides with grass and shrubs. Though beside the highway are [or were] signs you would hardly expect in one of the world's great metropolises, warning drivers to watch out for feral cattle.
Along with the hilltop Buddha, the stray cattle warning signs — and even the cattle themselves , as well as buffaloes in marshy fields — are among the quirks of a downright quirky island, which merits far more than a ride-by viewing.
Lantau abounds with temples, one bustling, others tranquil. There are winding coastal paths and tough mountain trails. Waterfalls tumble through secluded ravines. Globally rare trees and flowers survive on steep slopes; offshore swim pink dophins. The pace of life seems slow and easy in villages where simple offerings are made to tree and rock spirits. On the east coast, there's a custom built yuppie suburb (or is it, as one ex-govt guy has claimed, a resort like Hawaii?!). And each year in a cove in the southeast, a pub staged a "mud" wrestling contest [sadly, the pub has closed since I wrote this article].
History of Lantau Island
I managed to avoid the mud wrestling. But I have made the trek to another Lantau oddity: a stone circle set on the island's southwestern tip. I knew from an account in a history book that it was small, so wasn't disappointed to find an imperfect circle of stones that looked of a size I might just manage to lift. And yet, some historians have speculated it might be related to the great stone circles like Stonehenge; like another circle on Lamma Island, it might have been built by a Stone Age or Bronze Age people and encode something from their cosmology.
Equally mysterious is a rock carving at nearby Shek Pik that likewise probably had some spiritual significance. Shek Pik is one of Hong Kong's most important archaeological sites — excavations have yielded Stone Age and Bronze Age relics from an era when a regional culture was emerging, and the waves of northern immigrants were yet to arrive.
Lantau has otherwise registered few blips in the annals of Hong Kong's history. In the thirteenth century, towards the end of the Song Dynasty, two boy emperors fleeing Mongol invaders sought refuge there — an uncle who tried to protect them is honoured at the island's two Hau Wong temples. Lantau was important in guarding shipping routes through the Pearl River to Guangzhou (Canton). But its waters also harboured pirates ranging from brigands in small boats to the infamous Cheung Po-tsai, whose fleet was eventually defeated in a sea battle off Chek Lap Kok, the island that has been sacrificed for the airport platform.
Under British rule, Lantau mostly remained a rural backwater. It was a place where even the construction of a road along the southern coast proved no simple matter; the village politics and shenanigans involved inspired a novel by colonial administrator Austin. To urban Hongkongers, Lantau became a holiday island, offering hiking, beaches, and open spaces. Lately, some commuters have moved in. Especially to Discovery Bay, a development on the east coast which, with its lack of roads to elsewhere, its golf carts, and its rules and regulations handed down from the controlling company, reminds me and others of the place Patrick Magoohan was held in the sixties' tv series The Prisoner.
Thanks to its seclusion, Lantau also attracted monks. In the late 1970s, there were 500 monks living in 135 Buddhist monasteries, and Lantau was sometimes called the Island of Prayer.
Ngong Ping, Lantau Peak and Sunset Peak
The best known of the monasteries is Po Lin, which is on a high plateau – Ngong Ping – ringed by hills. Grand and gaudy today, Po Lin stands where three monks set up a meditation retreat in 1905. They built stone huts, other recluses joined them, and the monastery was officially inaugurated in 1927. The building was simple, and was surely peaceful as there was no road, just the Pilgrim's Path from the fishing village of Tai O to the west.
How things have changed: new buildings were opened in 1970, a road has been built and recently widened, the big bronze Buddha has been added to the attractions, and Po Lin swarms with visitors who can eat in a canteen that seems modelled on an aircraft hangar. But it is possible to avoid the Disney-does-Buddhism sensation by lingering till sunset when, with the crowds gone, Po Lin is wonderfully tranquil.
This area is now also accessible by a cable car from Tung Chung, near the airport, as a key part of the the bizarrely titled Ngong Ping 360 tourist attraction.
Or, head to one of the host of less visited monasteries. Two lie on a path leading north and down from Po Lin. Several dot the hillsides above Tai O. And for the ultimate in tranquility — as the monks are sworn to silence — there's a Trappist Monastery in eastern Lantau.
Two mountains lie at the heart of Lantau. The higher of them, 934-metre Lantau Peak, is the second highest mountain in Hong Kong; its upper reaches form a distinctive, sharp cone, in contrast to the more rounded outline of neighbouring Sunset Peak. I have climbed Lantau Peak in pitch darkness, using a torch to light my way up the long flight of rough stone steps from near Po Lin. At the summit, I joined a small crowd of other crazy climbers, who had gathered in the chill air to watch the sunrise. That morning, the sun was late in showing, and was already a pallid yellow once it did emerge from clouds. It hardly mattered: pre-dawn, the night sky was crisp, unpolluted, a shooting star flashed by, and our small gathering seemed far removed from any city.
I've also hiked up Sunset Peak. Along the regular route, it's an unexciting mountain. The slopes are mostly covered in hardy shrubs and grass, cropped by Lantau's nomadic cows. Stone huts are about the only curios: they belong to small societies and Christian groups, who use them for recreation, and for helping former drug addicts.
But these grassy slopes and Sunset Peak's gentle appearance belie the mountain's other, north side. Here, there are steep slopes clothed in woodland. Reptile and amphibian zealot Steve Carson once led me into a ravine that slices into the mountain. We followed a stream bed, scrambling around and over boulders, then climbed up beside a waterfall, to enter what may be Hong Kong's wildest place. We sat (or, in my case, collapsed!) by a clear stream between densely wooded plunging slopes. Ahead of us, the ravine narrowed to a gorge, before angling sharply right. A thin stream plunged down one of the gorge's rocky walls. There was no one else around; nor could we see evidence that anyone else had even been there.
It's easy to imagine that this ravine would have been too remote for people to visit to cut trees or perhaps even cultivate. But botanist Richard Corlett says the forest here has been altered by man; the trees are of no great size, and are often multi-trunked as if they have been coppiced. Even so, some of Hong Kong's original tree species are found here. Among them are magnolias and camellias, which though never tall are impressive when in bloom. There are rare orchids as well. Recent surveys have added to the list of plantlife, and shown there are interesting animals — a dragonfly new to science was found in this area. The crags above the ravine are probably home to Bonelli's eagles, which are scarce in Hong Kong and may be rare elsewhere in China.
Southwest Lantau
Away from Sunset and Lantau peaks, Lantau's most interesting hills are in the southwest of the island. They're relatively low — 490 metres at most — but offer fine views over Lantau and islands dotting the South China Sea. A switchback trail links two of them, then almost turns back on itself before passing a couple more Lantau novelties. The first is a six-metre long, garishly painted statue of a flying dragon, on boulders above a small temple. Then, there is Ng Yuen.
Ng Yuen is a folly of the kind an English nobleman could be proud of. It's a garden in classical Chinese style, complete with a viewing pavilion and zigzag bridge over a carp pond, and is accessible only by footpaths — the nearest village, Tai O, is over 2 km away, and the path from there ascends some 220 metres, mostly in a steep flight of steps. Developed by the late Mr Woo Quen-sung, Ng Yuen is now a little neglected. But it's a fine place to visit, albeit often closed so you mostly have to admire it from a small dam – from which I took the photo here.
So too is Fan Lau, a tiny headland that juts south from the coast below these hills. Its name means "division of flows": the Pearl River surges past the west side, while there are more oceanic waters to the east. There's an almost abandoned hamlet where elderly farmers still tend to fields. On the tip of the headland is the stone circle. Above the circle are the remains of an old fort that last century guarded the approaches to Guangzhou — thick, solid walls surround a floor of bricks laid during restoration work. In views from the fort, about the only reminders this is the late 20th century are the high-speed ferries that pass offshore, en route between Hong Kong and Macau.
Tai O and other coastal villages
I've read that Tai O, western Lantau's largest settlement, has sometimes been dubbed the Venice of the East. If so, I reckon this is a daft appellation. Tai O does centre on a waterway, a tidal creek lined by stilt houses. There are locals who travel about this creek on slim wooden boats. But Tai O is no cultural centre; it's a fishing village where life is surely not easy — just look at the many shacks of wood and tin sheeting, with their dingy interiors. An estate of 12-storey buildings was recently built with the aim of rehousing locals; but the estate is out of kilter with Tai O and, partly deterred by the rents, few people have moved in.
Villages and hamlets dot Lantau's coast and lowlands. There's a cluster of them in the east, near the ferry pier at Mui Wo (or Silvermine Bay). Boosted by commuters and holidaymakers, they appear relatively prosperous. So too villages along Lantau's southern road, which are close to long, sandy beaches.
Away from roads, the villages are mostly quieter, or deserted. Tai Long Wan in the southeast was different, thanks to the Frog and Toad Pub pulling in summer junk parties — and, of course, the crowds and spectators who revel in the booze sodden Mud Olympics – but has become quiet again; albeit mooted as site of a spa resort. Cheung Sha is right by a road, yet still has a long, lovely beach that's great for strolling; and a smattering of outdoors restaurants above the eastern beach.
Developments actual, and planned
A few years ago, I hiked along Lantau's north coast, and stopped off in one village to buy a drink. The "shop" was a house with a fridge stocked with beer and soft drinks. A television was showing a Cantonese opera in black and white; the rows of terraced houses were otherwise quiet. As in Fan Lau, it seemed the modern world had almost passed the place by — though young folk had mostly gone.
But the modern world has since arrived with a vengeance. The highway and railway serving the new airport pass right in front of the village (where most housing is now new?). Elsewhere, too, massive transformations have been wrought, more are planned. Chek Lap Kok was a small, rural island; now, all that remains is a couple of low hills, the rest having been levelled to make way for the airport. Chinese white dolphins — which are pink when adult — once frequented the waters around Chek Lap Kok. The airport scheme hasn't exterminated them, as conservationists once feared, but this scarce, attractive dolphin has lost a feeding ground, and pollution from new developments may well reduce its survival prospects.
Nearby Tung Chung used to be a backwater, with a few villages, a simple fishing harbour, and old rice fields. Now there's a new town designed for cramming people in, and the fields have been torn up in readiness for more high-rises.
When the airport scheme was first announced, the idea was to limit associated developments to northeastern Lantau. The government hasn't announced any changes to this intention [Boy, has that changed!! – see links below, re "Concept Plan for Lantau"]. "But there are rumours the plans for limiting development could be undermined," says Fabian Pedrazzini, a spokesperson for the Green Lantau Association — a small but vocal organisation that is working to protect Lantau. A new north-south road is likely. With Hong Kong aiming to build tens of thousands of new apartments each year, some influential figures have suggested building residential districts in other parts of Lantau. Pedrazzini is among those who vehemently oppose such notions. "If Hong Kong is to maintain a balance between having congested areas and countryside, green lungs such as Lantau are crucial," he says. "Otherwise, there might be social problems — because after a tense week in the city, people will find there is nowhere to go for a quiet weekend."
Cynically, I suspect some members of the pro-development lobby can relax at their clubs or jet off to other parts of Asia when they want a quiet weekend; and I wonder how many envisage living in any new developments. But with the bridge now built, and land at a premium elsewhere, Lantau must seem ripe for the taking.
Hands off, I say — as if that mattered. Take the northeast, if you must. But leave the coves with their villages, the mountain trails where you can still enjoy wild landscapes, pass temples, find a dragon, stumble on a landscaped garden. Or — as I did one evening — walk down an empty road after staying at Po Lin till dusk, with the sky turning to indigo, mists settling on hilltops, and little but crickets breaking the silence; and send cows trotting off from an otherwise deserted bus stop, before catching the number 2 bus towards frenetic urban Hong Kong.
Here's a short film I've made, on wilder areas of Lantau:
Sadly, Lantau is targeted for far more development. There's some info about this on my website, Hong Kong Outdoors – including my responses to the Concept Plan for Lantau – not balanced and not sustainable.
Also see: A Sustainable Development Plan for Lantau.
Here are maps I've helped produce, to highlight the beauty of Lantau today; and potential impact of developments: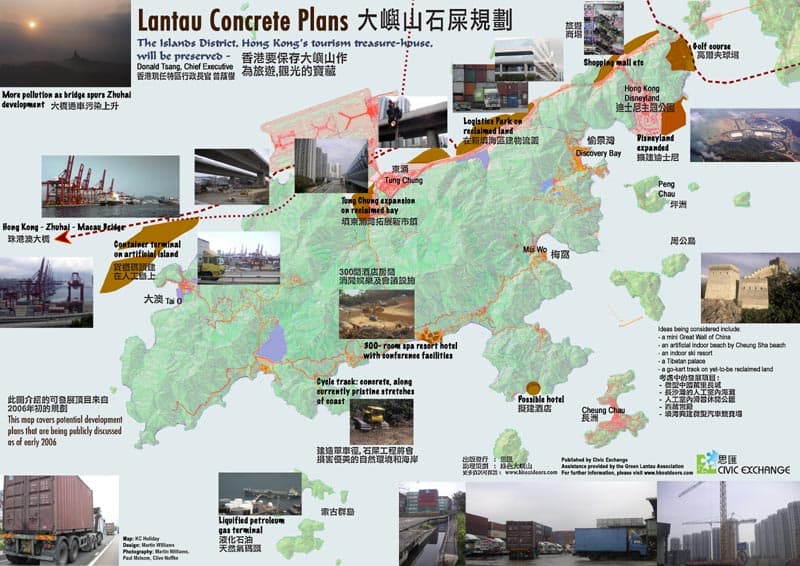 (This article appeared in the August 1998 issue of Discover; I've updated it since.)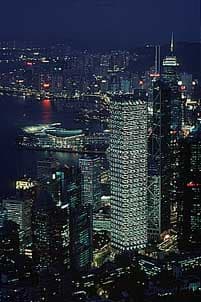 Hi! I hear you're visiting Hong Kong, you've been out for the day – doing something dull like shopping, or vastly more…