I'm a Hong Kong based writer, photographer and videographer, also nature tour leader and ecological consultant, with a strong interest in wildlife and conservation issues.
Writing and photography for books and magazines
I've written numerous articles for magazines and newspapers including BBC Wildlife, National Wildlife, Reader's Digest, South China Morning Post [see Martin Williams, with links to articles by me] and Ming Pao Weekly. You can find a wide range of articles and photos on this site.
I've written books including Hong Kong Pathfinder: 24 day-walks in Hong Kong, contributed to 1001 Natural Wonders: You Must See Before You Die, and was a major author of Central Ridge and West (covers HK country parks from Ma On Shan west to Tai Lam, published by Friends of the Country Parks, 2006). Also main writer of a Hong Kong Tourism Board booklet, Discover Hong Kong Nature; several of the photos are mine, and I gave advice during production. Also wrote and photographed two books from John Beaufoy Publishing: Enchanting Hong Kong, published in autumn 2012, and The 25 Best Day Walks in Hong Kong, published in October 2018.
Video and Filmmaking
I was co-producer of Explore Wild Hong Kong, a 28-minute film on nature tourism in Hong Kong, sponsored by Cathay Pacific.
Also conceived and edited two viral videos – A Woman Missed Her Shark Fin Soup in Hong Kong, and Shark sister tantrum in Hong Kong, to boost awareness of need for shark conservation. The former proved especially successful, with over 1.4 million views on youtube; both appeared on an MTV show, DJ and the Fro.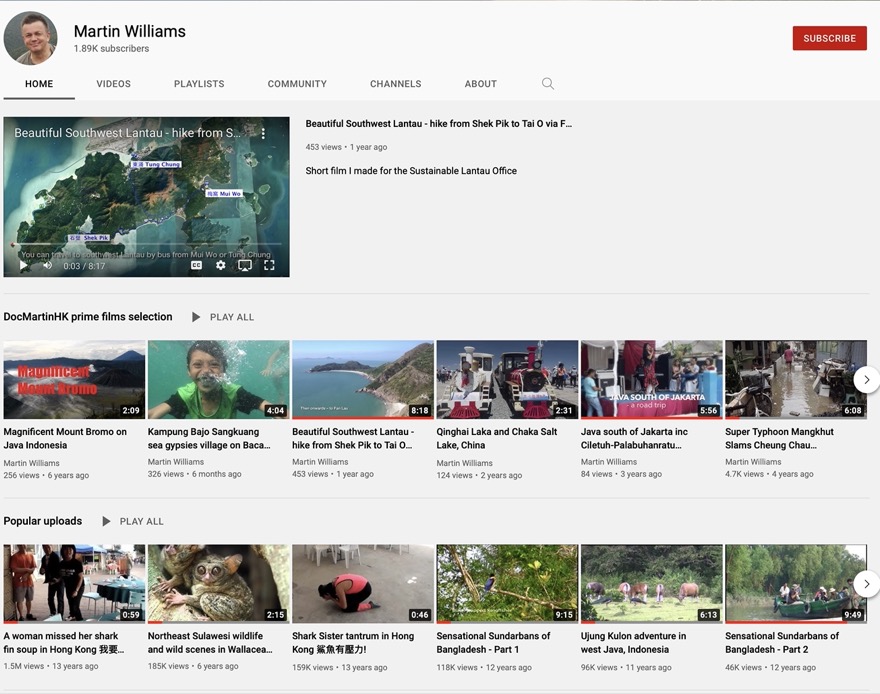 Directed Mai Po Marshes – Hong Kong's Wetland Superstar, a 10-minute film with footage I shot for WWF Hong Kong. Created Typhoon warnings – wind, rain, waves, and surges, produced by Hong Kong Observatory, for the Typhoon Committee of the World Meteorological Association. Also Beautiful Southwest Lantau for the Sustainable Lantau Office of Hong Kong Government; plus this on Tung O Ancient Trail:
Other video projects include a short film on the Golfing for Good Event of the Wednesday Afternoon Golf Society (WAGS) in Hong Kong, and an accompanying film on The Setup.
You can watch several videos I have made and co-produced on this site, and at DocMartinHK – YouTube.
Copywriting and Editing for Businesses
I'm also an English language copywriter and editor, working for corporate clients, government departments and public relations companies. This work ranges from writing press releases, through drafting and revising speeches, to helping produce newsletters, brochures and booklets, and writing and editing websites. I wrote KEF – 50 years of innovation in sound, a small book to celebrate the 50th anniversary of this renowned loudspeaker company. Also, through Linkup Design, writing and editing for magazines of the Aberdeen Boat Club and American Club.
Website Building and Search Engine Optimisation
I'm experienced in creating websites, using software including Drupal and – after migrations of websites, the far more user friendly WordPress.
I have built and manage several sites, including this site; Hong Kong Outdoors; and CheungChauHK – on Cheung Chau, the island where I live.
Promoting Nature Tourism
Believing nature tourism can help protect wildlife and wild places, I was instrumental in making Beidaihe in east China a hotspot for travelling birdwatchers. After leading and co-leading migration surveys at the town from 1985 to 1990, I helped launch birding tourism there, initially through planning and co-leading Sunbirder tours; also organised and co-led a tour for Ornitholidays.
Also promoting nature tourism in Hong Kong. Here, I have co-led birding tours with companies including Limosa, Ornitholidays and Sunbirder. Became director of a small nature tour company, FirstStep Nature Tours; now defunct following heavy-handed changes to licensing regulations. Nowadays, few tours, including educational outings for school groups.
Environmental Consulting
I've worked on environmental assessments in Hong Kong: chiefly bird surveys at sites where developments were planned. Also for World Bank and Asian Development Bank funded projects (and potential projects) in China – in Sichuan, northeast Inner Mongolia, Fujian, and Zhejiang. Here, too, aimed to boost conservation, through recommending mitigation measures, and encouraging nature tourism.
Scientific Background
I have a BSc in Chemistry from Durham University and a PhD in Physical Chemistry from Cambridge University.
Outstanding Earth Champion
In November 2008, I was acknowledged as an Outstanding Earth Champion by the Earth Champions Foundation.
Contact me
– via form below; or email martin [at] drmartinwilliams.com; tel/whatsapp 852-96201824.
Caring for the environment is in his nature: Nature enthusiast Martin Williams is passionate about the environment – on South China Morning Post website, as part of Spirit of Hong Kong series.
Hong Kong – the world's least likely bird sanctuary – on Cathay Pacific Facebook page, largely re my efforts to promote nature tourism in Hong Kong.