Hong Kong is far more than a modern metropolis; the territory [Special Administrative Region, or SAR] boasts some wonderful countryside, with hills, forests, old villages, waterfalls, and islands. There are many trails, along which you can follow routes that range from gentle strolls to tough hikes.
You don't need special gear; but, in summer especially, you should take plenty of water and/or sports drink – it can be surprising how much you need to drink (in peak summer, it's best to opt for shorter, gentler routes). There have been a few recent cases of hikers being robbed by illegal immigrants; the incidents have mainly been on Hong Kong Island and in the eastern New Territories, but maybe shouldn't be too off putting, as thousands of people hike each weekend.
            Here's a selection of areas and trails. Elsewhere on the Internet is more information on hiking and country parks in Hong Kong (see links below). I've started with areas near to the city, shifting to some that are more remote, and to some islands.
Hong Kong Island hiking trails
Hong Kong Island is far more varied than a look at its urban north shore might suggest. From near the upper Peak Tram station, you can stroll to wooded hillsides above Pokfulam Reseroir – try Pokfulam Reservoir Road, which is closed to most traffic and enters woodland the moment you start on it (opposite the car park).
Wilder is the stretch of Hong Kong Trail that heads north from Parkview; keep to the trail, and you can climb hills, then arc down to pass the Tai Tam reservoirs. Dragon's Back above Shek O makes for one of the best short hikes in Hong Kong; follow it southwards then, perhaps, catch a bus to Shek O for a meal, and a stroll to the islet of Tai Tau Chau.
Hiking the Hills North of Kowloon
The hills just north of Kowloon (eight of the "nine dragons" – the "gau lung") also boast good trails, with views of country and city. Lion Rock has a fairly tough final ascent, but is spectacular when you're on top – from where I took the photo at the top of this page. Nearby, there's a road along the ridge in the Fei Ngo Shan area; maybe you can head up by taxi, then walk the road and some of the trails.
Hong Kong's highest mountain, 957-metre Tai Mo Shan, dominates the central New Territories. There's a restricted access road to the summit, which is off limits to the public as there are communications parapernalia.
If you fancy trying Tai Mo Shan a hard way, walk up via the spectacular waterfalls in the wooded ravine above Ng Tung Chai, on the north slope of the mountain. There are also good walks lower down, including along the west shore of Shing Mun Reservoir, and in the Tai Po Kau forest nature reserve.
Eastern New Territories
Further east, Ma On Shan is lower but makes for a far more impressive climb. Maybe the best approach is from the east, along the Maclehose Trail; it's steep, especially once you've turned off the Maclehose Trail for the final approach, but the landscape is wild, and the views are superb.
East of Ma On Shan is the Sai Kung Peninsula, which boasts some of the finest scenery in Hong Kong. There's a plethora of trails, making for varied possibilities for outings, and you could easily spend several days exploring the area.
The star place is surely Tai Long Wan – Big Wave Bay, with its superb beaches backed by old fields that are surrounded by hills. It's fairly easy to walk to from Chek Keng or Pak Tam Au. You might just relax by the beaches, maybe in one of the simple restaurants that mostly open on Sundays and public holidays; but if you're feeling energetic, try heading south through Sai Wan, then along the Luk Wu Hiking Trail. Or climb Sharp Peak – though be warned that the trails near the top are steep and rough.
In the northeast New Territories are more trails through landscapes that seem relatively wild. The Pat Sin Leng Range makes for a fairly tough ridge walk (try from Hok Tau to Tai Mei Tuk); it's far easier to stroll through Shalotung with its handsome, near-deserted villages, making a side-trip to Ping Shan Chai. There are also trails to the coast at Double Haven, an area that seems splendidly remote, with only small villages like Lai Chi Wo and Sam A Tsuen.
Hiking on Lantau and other Hong Kong Islands

Despite the airport on its north shore, Lantau Island is another place with impressive hikes. I especially like the southwest corner – you can head for the hills here by following a catchwater road below the Kwun Yam Temple, then climbing a track to join a stretch of the Lantau Trail.
Po Toi Island, south of Hong Kong Island, has only a few trails, but it's wild and rugged, especially when you're atop the cliffs of the southernmost headland. And, you can finish with a seafood meal before catching the ferry back to Stanley or Aberdeen.
Seafood restaurants abound on the island where I live, Cheung Chau. Though the central part is packed with housing, there are quiet stretches of coastline in the north and south. Try the southwest corner, for a short coastal trail starting near Cheung Po Tsai Cave, or the path some locals call the "Mini Great Wall" in the southeast.
I appreciate this information is brief, but hope it may be useful to you. There's far more info on my other site, Hong Kong Outdoors.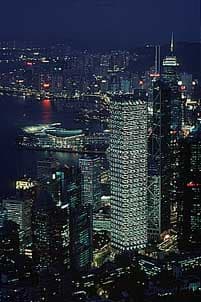 Hi! I hear you're visiting Hong Kong, you've been out for the day – doing something dull like shopping, or vastly more…