First Jill Robinson was shocked, then she set out to stop the suffering
The Great Bear Rescue

There is an eerie silence as a blonde Englishwoman walks into a room on a farm in China's Guangdong Province. As Jill Robinson's eyes become accustomed to the dim light she realizes she is surrounded by orange-barred cages. Guttural popping sounds begin to come from the cages as she looks to see what is behind the bars. In each is an endangered Asiatic black bear.
As she approaches the cages, Robinson, who is a consultant of an animal welfare organization, is horrified by what she sees. One bear has patches of exposed flesh where skin has peeled away from its paws. Another has scars along the side of its body, two have missing paws, and another has teeth broken from biting its cage.
Then she sees a long, metal pin protruding from the stomach of one bear. This is what she has come here to see for herself. Implanted during a crude operation, this is a tube through which the farmer extracts the bile used in traditional Chinese medicine.
Robinson has heard reports that there are thousands of such bears all over China. But the reality is far worse than she has imagined.
Later, alone in a hotel room, Robinson lies awake for hours, alternately tearful and angry. There can be no justification for something so unconscionably cruel, she thinks to herself. How can it be brought to an end?
First, Robinson needed to draw public attention to the problem. She visited another farm and sent photos and video footage of the caged bears to the International Fund for Animal Welfare's UK office. The fund's publicity machine swung into action. Television screens and newspapers from Sydney to London showed scenes of bears lying forlornly in their iron prisons. Protests flooded in to IFAW offices worldwide.
Though IFAW passed only a fraction of the mail to Robinson, she spent days responding to people moved by the bears' plight. Her office was then just a room in her home. She sat at a table from 7am till the evening, typing personal replies.
People phoned her too. A lawyer from Australia broke down in tears as he told Robinson he couldn't sleep and couldn't get over what had happened. People sent donations and organized fund-raising activities on behalf of the bears.
Robinson had mobilized public opinion in the West. That was the easy part. But actually achieving change would be the most difficult challenge she had ever faced.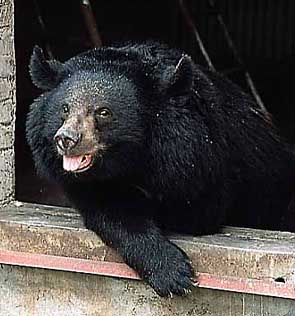 Robinson had been drawn to animals from early in her childhood in Nottingham, England. Not allowed to keep pets till her teens, she would sneak field mice home and release them in the garden. With no dog at home she offered to walk neighbors' dogs so she could spend time with them. She hoped to be a vet, but her school results weren't good enough and she worked as a secretary until she married an airline pilot, setting up home with him in Hong Kong.
There she worked as an assistant to a neighbor, David Dawson, who was Asia coordinator of the International Fund for Animal Welfare. She went with him on field trips to South Korea, China and the Philippines, investigating the wild animal trade and the food trade in cat and dog meat. Working with Dawson taught her a key lesson: making a fuss about a problem didn't change much. To really improve the conditions for animals it was essential to understand local culture and win the understanding and involvement of local people.
To save the bears Robinson faced three formidable challenges:
First: bear farming was encouraged by the Chinese government. To succeed she would have to persuade high-level officials to reverse their policies. As a Western woman could she persuade them even to listen to her?
Second: bear bile was a highly prized ingredient of Chinese medicine. She would have to learn enough about Chinese medicine to seek out acceptable substitutes.
Third: the captive bears couldn't just be released in the wild. Many, maybe even thousands of bears would need care for the rest of their lives: she needed land for a sanctuary and the funds to maintain it.
Then came a stroke of luck. Robinson received a phone call from a friend of businessman and politician David Chu, who had been disturbed by the news reports and might be able to help.
Soon Robinson was sitting at a lunch table at Hong Kong's Foreign Correspondents' Club with Sally Banks, wife of Tony Banks, an IFAW supporter and British MP.
When Chu arrived, he was friendly but straight to the point. "What do you want to do?" he asked.
Robinson said she was looking for land in China to establish a sanctuary for rescued bears.
Chu, an animal lover, was moved by Robinson's concern for the bears. He wasn't hopeful the monolithic Chinese government would reverse policies promoting bear farming, but he was able to offer some practical help. "I've got land – you can have that," he said.
Robinson and Banks stared at each other in amazement. Chu also said he was an honorary advisor to the government-affiliated China Wildlife Conservation Association and could arrange contacts. Robinson left the club elated. Now she had the beginning of a solution for two of her main obstacles.
But what of the third? Could she persuade traditional Chinese medicine practitioners to adopt substitute ingredients? She had sometimes visited traditional Chinese medicine stores and found tiger paws, rhino horns and other ingredients from endangered species. She had assumed it was just quack medicine.
Robinson flew to Seattle to attend a conference on the use of bear derivatives in Chinese medicine. Bear bile was by far the most important of these – speakers reported on it being used in treating a range of ailments, including life-threatening cancers, and serious liver problems. Robinson also heard that bears are the only mammals producing significant amounts of a particular bile acid, a synthetic version of which is used in the West for treating illnesses including gallstones. She saw potential for replacing bear bile when an acupuncturist said pig bile could be used instead.
But there were setbacks, too. During the conference, a Korean bear farmer – his farm, like others in Korea, in limbo after protests from animal rights groups – told one Western conservationist, "You are all racists!" Robinson felt this smeared her too – unfairly after her years in Asia. One Chinese official said he wanted trade in bear bile to expand. Robinson's heart sank.
Back in Hong Kong, Robinson joined a meeting organized by Earthcare, an animal welfare and environmentalists group, during which several Chinese doctors showed her some of the herbs they used, and explained some of the principles involved. To her relief, she was told animal ingredients could be replaced with herbs.
By now Chu made the promised introductions, and Robinson began to meet with officials from the China Wildlife Conservation Association. They were reserved at first but with patience and persistence Robinson gradually warmed them to her ideas. Soon she had won over the Hong Kong-based Association of Chinese Medicine and Philosophy, as well. Earthcare was sympathetic from the start. There was a promise that Robinson and Dawson could inspect farms in three provinces.
A sanctuary with roomy pens and an outdoor enclosure was meanwhile being built on Chu's land in Guangdong Province. Now Robinson was ready to try the third of her three challenges: to try and rehabilitate captive bears.
When officials closed the two farms Robinson had visited, they handed nine bears to her and her newly-formed bear rescue team. Though one bear was in such terrible shape that they had to euthanize it, the other eight survived surgery to remove their implants and began recovering.
It was a gratifying start. Eight bears had been rescued. But there were still thousands of farm bears in China.
She kept meeting with China Wildlife Conservation Association officials including secretary-general Wang Fuxing. They started to use a phrase "animal welfare", which she had been told there were no words for in Chinese.
But by now she had run into an unexpected snag. While she and Dawson had visited farms in two provinces, the promised visit to a third province proved elusive.
Finally, Robinson headed to Beijing for another meeting. She faced a trio of officials including Wang Fuxing and launched into an angry but controlled speech. Wang listened in silence. Robinson continued, wondering what the response would be. Wang smiled and said, "I am very touched by your words, and I promise you I will work with the government to have things arranged."
Meanwhile, Robinson had left IFAW to establish the Animals Asia Foundation with its chief operations in Asia and fund raising and education bases in Germany, Australia and the UK, which she believed would have more credibility in Asia and accelerate decision-making.
Wang delivered his promises. Robinson was taken to farms in Sichuan Province. Though she was concerned the visit might be sanitized, she was free to talk with farmers.
The Sichuan visit led to the first agreement on animal welfare that a non-governmental organization has yet signed with the Chinese government.
The actual signing of the agreement was a simple affair, between people who were now friends. Robinson flew to Beijing and headed to the association's office. Here, Robinson and Wang Fujing sat on the settee, drinking tea and chatting. Then, Wang – who was beaming throughout – related the history of the agreement, and the reasons for it. Robinson followed with a short, simple speech. She and Wang then sat at a desk, where each signed and chopped four copies of the agreement. Goals included the rescue of 500 bears from Sichuan farms that would be closed within the next two to five years.
Today, Robinson is much closer to her goals. Standing by a window on the top floor of the two-storey headquarters of the Sichuan bear sanctuary – now home to 58 rescued bears – she gazes out towards the dirt road that winds towards her through rice paddies. She's been waiting all day for the arrival of the sanctuary's latest batch of bears.
She goes out and waits on the dirt road. It's nearly dark as a blue, open-top truck approaches and Robinson hurries alongside. Orders are shouted, the tailgate is opened and, one by one, the cages are hauled screeching from the truck to the top of the steps. The bears roar with anger and fear as they are jolted and dragged.
As soon as the cages are still, Robinson approaches to see the bears, wary of the danger from slashing paws. A flashlight reveals that at least two have missing limbs, another may have eye problems.
Robinson has a list of names ready for them. "This is a male – he's Belton Kleberg," she says, naming him after a recently deceased friend.
When Robinson sees Belton Kleberg the next morning, she finds a very frustrated bear. He's waiting for anyone to come within striking distance, smashing against his cage bars and lashing out with his paws. Once Belton Kleberg is anaesthetized for examination, Robinson can see some of the reasons for his anger. A catheter protrudes from his stomach; bile is leaking around it. He's missing a hind leg.
Robinson helps out as three vets examine each bear in turn, clipping nails and removing pre-molars for laboratory analysis.
"It's obscene," she remarks, holding a paw that's missing several claws. "The one good thing is that they have sponsors who are waiting for news." Among them are an airline pilot and school groups who are sponsoring individual bears, and a Hong Kong businessman who gave US$1 million to help build the sanctuary. Their support, in turn, helps make Robinson believe she is on the right path.
Four days after arriving at the sanctuary, Belton Kleberg is no longer showing the explosive rage of his first morning. "He's a highly intelligent bear – he's already changing," says Robinson.
Since beginning the rescue efforts, she has witnessed some remarkable transformations. Sometimes, the bears entertain her, bringing much-needed light relief.
She watched as one male was first introduced to a den with neighboring bears – he exploded out of his small cage, then burst up to his neighbors and held a paw straight through the bars as if to say "Hello, I don't believe we've met."
A few that have been at the sanctuary for a year are still traumatized, too temperamental to join other bears. "But we are patient," says Robinson. "We know that sometimes it takes time for them to understand that nothing will hurt them ever again."
Robinson stands by the enclosure one afternoon, watching two females and a male called Andrew – who she says was "the star from day one", as he has always been gentle. He has commandeered a big log that's peppered with holes where Robinson and helpers have placed apple chunks, and is using his one front paw to dig them out.
Robinson is smiling as she sees a butterfly land above Andrew. "That's so sweet – it's like a film," she says. "The bears have taught me forgiveness," she adds. "They're amazingly stoic. They've come through it, and they're now happy to see us. It's a privilege being part of the whole process, and seeing that an animal can trust people – the same species that has caused it such pain and suffering."
Meanwhile Robinson's work has garnered increasing international recognition, including an MBE (Member of the Order of the British Empire) from Britain's Queen Elizabeth. "Jill Robinson is an outstanding person, she's hugely courageous," says Virginia McKenna, founder of the Born Free Foundation. "She will inspire many young people and is a shining example to everyone."
The China bear rescue – the largest rescue of its kind – proves to be expensive. The sanctuary for 500 bears costs some US$3 million per year with each bear costs US$600 to feed. For further information, visit www.animalsasia.org or write to: Animals Asia Foundation, P.O. Box 82, Sai Kung Post Office, Hong Kong.
Pdf file of this story as it appeared in the Chinese edition.
[This article first appeared in the June 2002 Chinese edition of Reader's Digest. Reader's Digest holds copyright in the text.]
On the morning of 2 July 2022, as Hong Kong was lashed by gales and rainstorms…