Dr. Yang Li-he has spent his life helping cure leprosy. Now he is helping former patients to rebuild their wrecked lives.
Restoring Dignity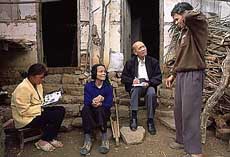 In Ba Guan village, Guangxi Zhuang Autonomous Region of Guangxi in southwest China, Dr. Yang Li-he examines a 28-year-old woman who is recovering from leprosy, an ancient and terrible disease that still afflicts over 600,000 people worldwide. The woman's story is tragic: Zhao Lan-qing's father and mother died within a week of each other. She was later diagnosed with leprosy and has finished the course of drugs to treat it. Her hands and feet haven't suffered serious nerve damage, but she is worried that her skin has huge dark patches. "Those are a result of the drugs," says Yang. "They'll fade a year after stop taking the drugs."
Zhao tells him that she has no money and she wants to work. "We'll help you – we'll bring you to Guangzhou," says Yang. She can learn to sew in the quilting centre established by Yang's foundation Handa. He also advises her to study Chinese characters every day, so she can read and write. Zhao also wants to raise pigs – "two" she says.
Almost in tears, Zhao repeats that she hasn't any money, not even one cent. Yang's face full of concern, he reaches into his jacket pocket, and hands her 100 yuan ($12) of his own money.
The gesture is typical of Yang. Thousands like Zhao are learning to live normal lives thanks to Yang Li-he, who has devoted his life to battling leprosy.
Yang's lifelong aim: defeating leprosy in China
Yang learned the effects of poverty and disease the hard way. When he was growing up in Jiangxi province in southeast China, his mother developed gallstones, which can cause bouts of agonizing pain. It was years before she was able to get effective treatment. Every time she was crippled with pain, Yang was left feeling utterly helpless and could only weep at her suffering.
When he grew to realise how many people in China were poor and sick like his mother, he decided to devote his life to helping them. He would become a doctor, he decided.
One day while he was studying medicine at university in the north-eastern city of Dalian, Yang's class was introduced to a man aged about thirty who was covered in red patches, lesions, and bubble-like nodules. "There are no effective drugs, and this patient must be isolated," said the lecturer. The man had leprosy.
The disease, Yang learned, had been known in China for over two thousand years. With no cure available till 1942, and the one effective drug still hard to obtain in China, sufferers typically became outcasts, with most turning to begging, many committing suicide in despair. The man's condition haunted Yang and he decided to make defeating leprosy in China his lifelong aim.
As a first step after graduating, Yang joined the Institute of Dermatology in Beijing where he met an American-born physician George Hatem, known in his adopted country as Ma Hai-de. Ma's strategy for combating leprosy involved creating leprosy villages, where sufferers could live and be cared for, while not spreading the disease. In 1958, he sent a team headed by Yang to establish a village in a rural county in southwest Guizhou province. After two years, Ma sent him to Chaoan county in eastern Guangdong province to carry out a study on leprosy.
Yang surveyed the county in 1960, and found 1,700 leprosy sufferers, who were taken to one village. Here, over the next six years, Yang employed a blend of dapsone and Chinese medicines. The dapsone killed leprosy bacteria, while the Chinese medicines treat symptoms and complications such as high fevers, skin eruptions and nerve pain sporadically experienced by chronic leprosy sufferers. When Yang returned to Beijing in 1966, few cases of leprosy lingered in the county.
Yang worked in general epidemic control, including leprosy, until 1971, when the Institute of Dermatology was moved south, to Nanjing. He then focused solely on leprosy and began travelling throughout much of China, as a teacher in workshops organised by Ma. Through these, he spread his experience and expertise to barefoot [rural] doctors who joined a nationwide leprosy control network.
In 1985, the National Department of Public Health established the China Leprosy Control and Research Center in Guangzhou. A few years later Yang became deputy-director. After 1994 with leprosy down from half a million active cases to under 10,000, Yang had achieved most of his life's goal. But Yang knew only too well that the suffering of leprosy patients doesn't end when the disease is cured. Most suffer lingering nerve damage, deformities and disabilities; many have no home to return to and are stigmatised, destined to remain outcasts. Many have no jobs as they lost the opportunity for education. "They are the most unfortunate group of people in the world," says Yang. "Many have their bodies ruined, their families broken, and have no relatives to visit them."
Yang came up with a solution: a China branch of an international organisation called IDEA – denoting "Integration, Dignity, and Economic Advancement". For this, he teamed with Ruth Winslow, an American nurse he had worked with for several years. They decided to call the branch Handa – the Hansen-Damien Association, after G. Armauer Hansen, a Norwegian doctor who discovered the bacterium that causes leprosy, and Father Damien, a Belgian priest who devoted his life helping sufferers in Hawaii.
Yang patiently made tens of visits to local and national government departments – explaining how Handa could help former leprosy sufferers gain dignity, advance economically, and maybe return to their families – before Guangdong Handa was at last registered with the Provincial Department of Civil Affairs in 1996 with the endorsement of the Provincial Department of Public Health.
Dr Yang has given me self confidence
Their first major project was Ruth Winslow's idea: a quilting centre-cum-sewing school in Guangzhou, to help women afflicted by leprosy who wouldn't be accepted by factories. Yang ensured that some of the funds were used to buy a leather sewing machine to train men as well.
Yang, who often becomes deeply involved in the lives of those he helps, persuaded a shoemaker and a Taiwanese factory owner to teach the leather trade to Ye Sheng, a leprosy victim. Ye now runs a small workshop making footwear and tailoring prosthetics for leprosy sufferers Handa is helping. Another patient, Wu Ze-fang, grew up on a farm in Jiangxi, never knowing her mother. From the age of around nine to her early teens, her hands became less flexible, eventually virtually locking in a permanent half-grasp. Her left eyelids also became paralysed, leaving the eye half-open. When she was 14, a doctor at last diagnosed leprosy. Though two years' drug treatment cured the disease, her hands and left eyelids were still paralysed.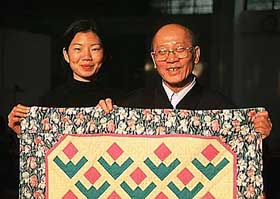 Through a dermatology clinic, Wu learned of Handa and joined the sewing school in 1997, when she was 17. Barely able to hold anything, she learned only slowly. Winslow remembers her as a "very dysfunctional" girl, who was always crying, and was very depressed that she had physical disabilities, and had no mother.
Encouraged by Yang and Winslow, and by accompanying them to the 15th International Leprosy Congress held in Beijing, where doctors said the nerve damage could be repaired, Wu agreed to surgery that could restore movement to her hands.
During the two years prior to the operation, Yang had tried finding Wu's mother. He visited her father, who first said he didn't know where she was but eventually revealed that Wu's mother was in a leprosy village.
Yang tracked down Wu's mother, and brought her to the hospital the day before Wu was to have her operation. Here, the mother and daughter had a tearful reunion. Wu's mother stayed with her as she recovered from the operation. Later, Wu's mother came to Guangzhou to join the sewing course; she now earns a little from sewing at home. Wu is now an instructor in the sewing school. She can make several pretty quilts in a day and is studying to become a designer.
Tears rolling down her cheeks as she relates her tale, Wu says, "Dr. Yang has given me self-confidence. I'm happy now."
A leprosy village like a trip back in time
Yang also reaches out to leprosy villages in Guangdong and neighboring provinces. Yangkeng village is tucked away in low hills north of Guangzhou, about an hour's drive from the city. Arriving here is like taking a trip back in time. A wall and three rows of squat terraced houses enclose a square of open ground with a few spindly trees; even on a sunny day, the house interiors are dark and dingy. The apparent time warp is perhaps appropriate, for the people Yang comes to see and help here come from another era, with most arriving in the late-1950s round-up of leprosy sufferers. Then young men and women, the 35 residents' average age is now 65.
Clambering out of a Handa van, Yang greets residents, smiling and shaking hands – he is quick to proffer a handshake on his travels to leprosy villages, ready to reach out and touch people used to being shunned as untouchables. He chats with members of two teams of Korean and Japanese volunteers who, at his suggestion, are spending two weeks here to improve living conditions. This is one of the first villages to receive help from Handa, and today's visit allows Yang to check progress. He crouches by a seated lady with an artificial lower leg, and learns that the ulcers that had plagued the stump of her leg are greatly healed thanks to a visiting Handa medical team.
Doctors and nurses have cured most skin ulcers and almost all blindness in the village. Now, says Yang, Handa is aiming to give better prosthetic limbs to villagers who need them.
The association chairman, He Ding-jia, a recovered patient of leprosy, tells Yang that Handa has improved villagers' lives in far more than medical ways. A key benefit is a kitchen that Handa helped build last year. Being an association helped them persuade the local government to increase their living allowance – from 45 yuan per month in 1994, to 190 yuan per month today. And, after learning of Yang and other visitors shaking hands and mingling with villagers, people from neighboring areas are no longer so afraid of them.
"We're much happier today," says He. "Now, we don't have to worry about everything." The last time he remembers feeling happy with his life, he was in his early twenties, and was married with a baby daughter – shortly before he was diagnosed with leprosy. His wife left him, and he was brought to a leprosy village, four decades before meeting Yang.
After the visit to Yangkeng in Guangdong, Yang, Wang Hong and driver Li Hua-sheng place bags in the back of an old jeep in Nanning, capital of Guangxi where Wang is based at Nanning's dermatology clinic. Leaving the mundane greenery around Nanning, the team enters landscape dominated by abrupt, rough-hewn limestone hills like the fanciful looking mountains of Chinese paintings. While the scenery is startling, this is a far-flung, impoverished part of China. At Ba Guan leprosy village, Yang asks villagers including Zhao Lan-qing about their problems, and their needs.
As he walks around the village and through a wood and fields on village land, Yang is pleased to find plenty of grass – which would help feed cows. The group returns to the county town, where Yang's small team will spend the night. They have dinner with the dermatology clinic director and two other health officials. As soon as the meal is over, Yang moves to a sofa, and pores through his notes and paperwork.
The others join Yang, and frivolity gives way to a lively discussion of the pros and cons of giving poultry and cattle to the leprosy village residents. "My goal is for the villagers' incomes to increase from today's 110 yuan per month (allowance) to 250 yuan per month by 2005 – do you have any ideas how we can achieve this?" Yang asks. But no ideas are forthcoming. By September last year [2002], three cattle fields have been built in the leprosy village in Guangxi. Those cattle are imported from India.
A new leprosy case
Next morning, the team returns to the clinic. They were told that the son and daughter of a woman who is now in a leprosy village; the father is an alcoholic, they haven't done well in school, and it is hoped that Yang can help them.
The girl, Zhou Wan-ni, comes in first. With hair tinted orange-brown, flared jeans that almost hide platform shoes, a row of ear studs and a streetwise attitude, she could be an inner city teenager from the US. She's 16. "What do you want to do?" he asks. She musters the energy to say she doesn't know. "Do you want to work or study?" She has no idea. Yang sends her out to think it over, and it's her brother's turn.
Her brother says he's called Zhou Wan-fu, almost 19.
"Hold out your left hand," says Yang. He's noticed that a patch of skin on the hand is a little discoloured, a shade darker than normal. He holds the hand, examines it. "Roll up your sleeves," he tells Zhou. Yang checks his arms, turning them so he can see both sides. The brief interview becomes a medical examination, and Yang learns the radial nerve in the left elbow is painful, the pain has lasted a month or two.
The skin around Zhou's left foot is dark, as if badly bruised. "How long has it been like that?" asks Yang. A month or two, Zhou replies. Yang checks his feet, gently raising and lowering them, then finding Zhou can resist downward pressure. Yang fetches Dr Wang, who confirms his diagnosis: Zhou is in the early stages of leprosy. "After another year, he would suffer permanent disabilities," says Yang. But now, Zhou can begin a course of drugs that will cure him.
A village like a jungle camp; another like a small town
En route to the next village, Long Gang, the jeep swings past fields with water buffaloes, and lurches along a dirt road. Though there are some ageing, brick buildings, this village is like a jungle camp. The ground is bare, dry earth; people are living in huts with flimsy, bamboo-weave walls and thatched roofs.
Yang decides to hold a meeting. He sits on a wooden chair and explains how Handa can help the villagers by providing poultry or cattle, as well as expert guidance in how to keep them. The introduction over, Yang produces a wad of forms, and splits the audience into people wanting cows, and those wanting chickens. Yang meticulously completes the forms. Then, he began to ask villagers what problems they have.
After a night in a small hotel, where mosquitoes trouble Wang and Li but somehow not Yang, the team is off again, bound for a third dermatology clinic, and a third village. Three clinic officials accompany them to Tingliang, on the head of a gentle, pleasant valley.
Especially after yesterday's village, Tingliang seems like a small rural town. The clinic officials escort Yang on a short tour, proudly showing him a recently built row of houses interspersed with a small common room with television and a chapel. Tingliang was originally founded by missionaries, in 1936, and around 50 of the 254 people who live here today are Christians. Even the older houses seem in good condition compared to those in typical leprosy villages. Yang says this is largely because Tingliang is administered by the autonomous region government, rather than being administered by county governments.
Occasionally, Yang stops to chat with villagers, and to ask about problems. One 71-year old man who has no fingers says he is losing his sight – so life is very difficult. Yang promises that a Handa team will visit and perform eye operations. An elderly man and woman later ask him to check their eyes, and he finds each has an advanced cataract in one eye, an early cataract – which can be healed – in the other. He asks for a list of people needing eye operations, and eventually receives 26 names.
At the village's spacious main meeting hall, villagers are coming in for a meeting Yang calls. Yang tells how Handa plans to help the villagers help themselves. He outlines the scheme to provide people with chickens and cows so they can earn extra money.
Yang is impressed with Tingliang. "In Guangxi, there are 36 leprosy villages, with around a thousand people in total," he says. "I want to bring them all to Tingliang – if they want to come. That is my dream. The living situation is better. The physical rehabilitation equipment, the doctors and nurses, are good. There's a lot of land, with very good conditions for economic rehabilitation."
Yang envisages villagers operating ventures like a sewing centre, and farms with cattle, chickens and rabbits. Tingliang owns 1000 square kilometres of land, and it's possible to put many things together here. Also, Tingliang's security is better than in most Guangxi leprosy villages, which have sometimes suffered thefts, at least once even had water poisoned by outsiders who didn't want former leprosy patients in the area.
It's almost mid-afternoon by the time the team and the clinic officials have lunch, at a roadside restaurant part-way back to Nanning. Tingliang dominates the conversation; all agree the place can help more people.
Yang is delighted. "They'd been against the move before," he says. "Now, they're giving some support. "
Yang is a really good guy
After a long trip, Yang returns to Guangzhou, where he checks on Su Chang-jiang who is busy cutting cloth patches in the bright and airy quilting center. Su came to Handa in late 2000, aged 17, to attend an electrical workshop. Though he'd been cured of leprosy, he had an ulcerated, festering foot. His mother had died when he was two; his father remarried four years later, and moved into his new wife's home. Su lived most of his life alone, miserably.
On meeting Su the first time, Yang realised that, given the condition of his foot, he couldn't attend the sewing course. But undeterred, Yang took Su to a hospital, where doctors operated on his leg, removing an infected bone. "He studies and works hard," says Yang, and Su has plans to study computing. "Now, life has hope," says Su. "Doctor Yang is a really good guy. He's like my dad." He pauses, and reflects: "He's better than my dad."
Handa has so far benefited former leprosy patients in six provinces across southern China; while more than 3000 have joined the association, many more also now lead better lives thanks to operations and artificial limbs to minimize physical disabilities, and helping in gaining the skills and confidence to rejoin normal society.
With a long and successful career as well as numerous official awards, and having been appointed as a member of the Leprosy Specialists Consultancy Team by the National Department of Public Health, helping others is still as important to Yang as it was at the outset: "If you can bring the world happiness and love, and help people escape suffering, that is meaningful," he says.
[This article first appeared in the March 2003 Chinese edition of Reader's Digest. Reader's Digest holds copyright in the text.]
pdf file of this article as it appeared in the Digest's Chinese edition
On the morning of 2 July 2022, as Hong Kong was lashed by gales and rainstorms…