Though physically similar to Po Toi, and little more than 10km south of Cheung Chau, Wailingding has a thriving village with a unique character, and a visit makes for an entertaining, out of Hong Kong experience
Even if you're familiar with seeing Lantau from places ranging from Cheung Chau to Victoria Peak and Tai Mo Shan, there's something a little odd about looking at it from a shoreline around 12km to the south. There are only hints of the grandeur of its hills, as it almost blends into other land on the horizon – with the mainland New Territories and Hong Kong Island to the east, Zhuhai to the west.
The view is all the more curious as Lantau and the rest of Hong Kong are so near, and yet are in a different land, as this shoreline is on Wailingding, an island in China's Wanshan Archipelago. It may be little more than a stone's throw away, yet getting there involves travelling to Zhuhai city, then taking a ferry that passes under the Hong Kong-Zhuhai-Macau Bridge, and exits the Pearl River mouth to cruise by islands including Lantau.
Viewed from the approaching ferry, Wailingding has an unremarkable profile, with a couple of central main peaks sloping rather gently to the sea. The greenery of the hillsides is dotted with granite outcrops and boulders – rather as on Po Toi, just south of Hong Kong Island.
Like a sister island to Po Toi – but enjoying boom times
Indeed, Wailingding is rather like a sister island to Po Toi, and is likewise very roughly circular, with only small bays and headlands. Both these islands are around four square kilometres in area, less than a tenth the size of Kowloon District. Both have villages limited to the west coasts, sheltered from northeast monsoons and the major typhoon winds. But while Po Toi is nowadays almost uninhabited, Wailingding is enjoying boom times, fuelled by tourism.
The ferry berths at a pier by a new two storey building with cafes, bars and a tourist information centre. A narrow road leads past a police station, and a cluster of buildings perhaps six storeys high that await finishing touches, perhaps before being used for tourist apartments.
There's a left turn, and a wider street lined with palm trees, with a row of seafood restaurants below more six-storey buildings. A signpost indicates that this is ingeniously named "Seafood Street"; nearby are Barbecue Street and Bar Street. While almost comically simple, these names at least indicate there is planning with quality of life in mind here, of a sort that seems scarce in Hong Kong, and utterly lacking in our rural areas nowadays.
Wailingding's buildings are not just crammed together, and the village has a relaxed, rural atmosphere. This is helped by the paucity of traffic, with just two cars seen during a recent weekend trip, the main vehicles being small trucks with electric motors, electric scooters, and pedal carts for one or two persons.

The village is at the base of a peninsula on the west coast of Wailingding. At the north of this, there's a beach with a designated swimming area. It's attractive but tiny, so not a place to make a beeline for if you are used to beaches in Hong Kong, where even Deepwater Bay is expansive by comparison. Beside it, a path leads to a rocky promontory topped by a pavilion, which is among the best places for viewing Lantau and seeing what other parts of Hong Kong you can recognise from this angle.
A coastal trail, an uphill road and a harbour
A coastal trail starts near the beach, leaving the buildings as it nears the tip of the peninsula. There are steps above the rocky shoreline, and a place where you can drop down past boulders as big as cars, and cross footbridges made from granite slabs to clamber onto another natural promontory. There are more boulders close inshore, and one weekend in early May this was a popular spot with Zhuhai birdwatchers, who admired and photographed Reef Egrets that stalked fish in the surf.
Outside the village, a slender road leads uphill. A little more than half an hour's walk along here, there is a small area devoted to Pak Tai, the Emperor of the North – who is akin to the patron saint of nearby Cheung Chau. A concrete platform is dominated by a statue of Pak Tai, a gilded figure around two storeys high, with imposing black beard, and stern countenance.
Near the statue is the Morning Bell, a bronze bell close to a metre tall, that rings loud and clear when struck by a wooden post suspended from metal chains.
From here, a sign indicates the way to Lingding Peak Rockery Park, 1800 metres away. The 311-metre summit of the island may make for an interesting walk on a fine day, but seems less appealing when heavy rain sweeps in from the South China Sea.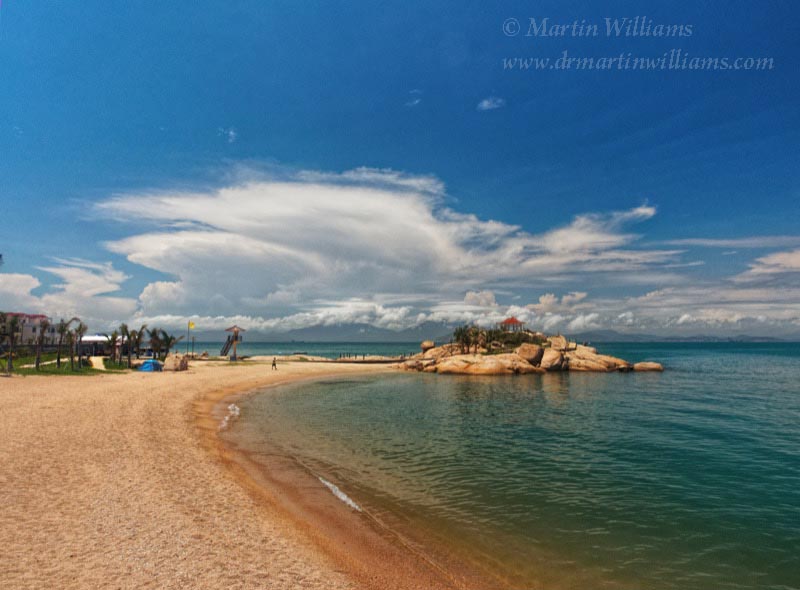 Around five minutes' walk north of the village, there is a small harbour for fishing vessels, where a sign warns against smuggling. It's a reminder that these islands in the Pearl River vicinity have long been a hive of nefarious activity; early Portuguese mariners dubbed them the Ladrones – the Robbers, or Pirates. Also, it serves as a reminder that while Hong Kong is close by, there's a need to cross from one system to another to return home.
Wild Times of the Wanshan Archipelago
Visiting Wailingding serves as a reminder that there are far more islands in the vicinity of the Pearl River Mouth than many of us are used to seeing on maps of Hong Kong, which give the impression open sea lies beyond the southernmost tips of the Sokos and Poi Toi. According to Wikipedia, the Wanshan Archipelago comprises 104 islands within Zhuhai; and while quiet today, these have had a turbulent history, mostly intertwined with Hong Kong.
Early in the Qing Dynasty, the inhabitants will have suffered severely from 1662-1669, when the coastal area was cleared in the struggle against remnant Ming Dynasty forces that had fled to Taiwan. By the late 19th century, piracy was reportedly rife. L. C. Arlington of the Chinese Maritime Customs reported, after a six year stint at the Customs station on Cheung Chau, "Gangs of pirates would get together and attack the villages, even in broad daylight," and according to a report from the British consul in Guangzhou, "The old free-booting spirit still survives among many who are now apparently peaceful traders and fishermen, of which we occasionally get startling proof in some unexpected daring act of piracy on the high seas or along the coast."
In summer 1950, there were echoes of the demise of the Ming Dynasty, as Nationalist forces fleeing the Communists arrived in the Wanshan Archipelago from Hainan. Here they planned to blockade the mouth of the Pearl River, but suffered a naval defeat before losing a succession of islands, including Wailingding on 1 July 1950 (or so says a Wikipedia account that's evidently based in information from the victors).
In decades since, the islands have been more peaceful, with the recent surge in tourism also including resort hotels on Wanshan and Dong'ao islands to the south of Wailingding.
Getting there
Zhuhai is served by ferries from the China Ferry and Macau Ferry terminals, to the Jiuzhou Port. Ferries to Wailingding depart Xiangzhou Port, on Lovers' Avenue in Zhuhai; and while they can be booked in advance through local travel agents, tickets can also be bought at the port, costing around 150 yuan for a journey taking up to 1.5 hours. Note that the island is a popular destination, especially during public holidays and weekends.
While the main village area on Wailingding can be easily covered during a day trip from Zhuhai, it's perhaps more rewarding to stay overnight. There are several small hotels and hostels, which can be booked via ctrip.com.
[Written for the South China Morning Post.]