There's an "only in China" style to Lufeng Dinosaur Valley, with its combination of kitschy dinosaur models, dioramas, fun fair, zip line, and museum. In the museum, we find displays including tens or hundreds of mounted dinosaur skeletons, most or all of which were discovered here. Lufeng, in Yunnan province, is one of China's greatest dinosaur sites, and walkways lead past an exposure of what looks like sandy clay, with dinosaur bones and a fossilised turtle shell left in place.
I notice a skeleton of the best known dinosaur discovery, Lufengosaurus. Dating from the early Jurassic, almost 200 million years ago, this looks barely twice the size of a camel, yet is among the forerunners of sauropods, the giant plant eaters such as brachiosaurus.
While interesting, Lufeng is a bonus for our trip; my wife, son and I are bound for landscapes that had not even formed when dinosaurs roamed the land, and called in during a drive from Kunming. Onwards and westwards, we cross a grand new bridge above the Nujiang, which flows into nearby Burma, and is there known as the Salween. The west bank of the river is bordered by the Gaoligongshan, a mountain range like a spur of the Himalayas thrust deep into sub-tropical China, and we take a winding road up to a hillside village.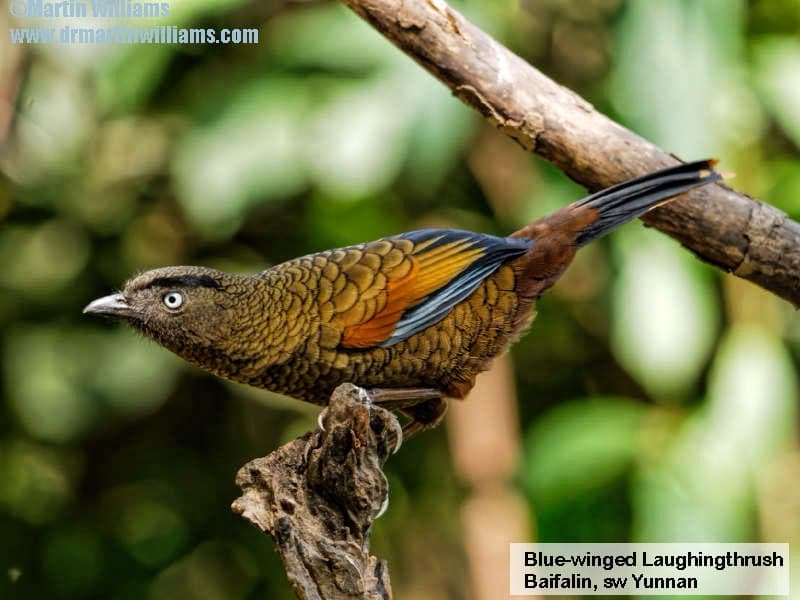 This village, Baihualing, has become the hub of a fast growing form of nature tourism: photographing forest birds. Villagers have set up at least 30 feeding and watering stations for birds in the nearby forest. At each there's a simple hide made from netting and poles, and you can pay to sit within, barely visible to the birds that arrive for handouts like fruit and mealworms, and make appealing subjects for photos.
I pay 40 yuan – HK$48 – and spend a couple of hours in one of the hides, readily photographing species including a beautiful black-throated thrush, blue magpies with extravagantly long tails, and a chunky flycatcher with shining blue upperparts. It would be easy to add more species by moving from hide to hide, but I want to walk around and see more.
The hills above are protected in the Gaoligongshan National Park, which boasts a wealth of plant and animal species. Strolling along trails, I'm reminded that even seeing forest birds is challenging, let along photographing them. There is, however, a place where trees festooned in creamy blossoms with nectar, drawing small birds for energy-rich feasts. With little else here but verdant grassy patches, and views over the woods to lower hills in the distance, this seems a wild place. Yet a signpost calls it The Old Street, noting it lay on the Ancient Southern Silk Road and "used to be a busy and prosperous market, crowded with taverns, lodges and teahouses."
Though less well known than the Silk Road passing north of the Himalayas, this was an important transport route, including for tea bound for India. Nowadays, there's still a good path – with stone boulders recalling Hong Kong trails, but it's used by hikers who cross a pass at 3200 metres before descending to the west slopes of the Gaoligongshan. Watching one group depart, with horses carrying their gear in baskets, I glimpse something of what the caravans must have been like when The Old Street thrived.
Cheung Ho-fai, former chairman of the Hong Kong Birdwatching Society, arrives in Baihualing, having arranged to guide us for the rest of our trip. Now based in nearby Baoshan, Hofai aims to foster bird conservation across Yunnan. Turns out he's a man with a plan, about to ensure a packed itinerary [for more on this, see Southwest Yunnan birding].
First, we drive north along the Nujiang, then up and over Fengxueyakou – the Pass of Snow and Wind. While there's no snow, the pass is swathed in dense cloud, putting a damper on birdwatching. But the area proves fascinating, further highlighting Yunnan's pivotal role in linking China and lands to the west.
We stay overnight in Pianma, a small town on the Burma border. "This was very busy with the timber trade," says Hofai, and we see storage yards with dwindling stacks of logs. Remnants of once mighty trees are strewn by the roadside, bearing sad testimony to the pillaging of primary forests in northern Burma. The logging and exports were illegal, yet the current hiatus may be more because of a glut in the China market rather than controls on trade.
During the Second World War, Pianma was in "The Hump", where Allied transport planes crossed mountain ranges as they flew from India to China, supplying Chinese forces battling Japanese invaders. The terrain, weather and attacks by Japanese fighters made this an extremely hazardous journey, and nearly 1000 men and 600 planes were lost. The remains of one of these planes – a Douglas C-53 Skytrooper piloted by American James Fox – were found nearby, and have been pieced together to form what's now the centrepiece of a museum in Pianma.
After we see the plane and display boards, the curator asks, "Do you want to visit the anti-British exhibition?" Well, I'm British, so can't refuse this offer! Another, smaller exhibition gallery has photos including tribespeople carrying muskets, from a time early last century when British officials sparked a border dispute by laying claims to land including Pianma that had been in a diffuse zone between Burma and Yunnan.
Then, we leave the Gaoligongshan, and head to Yingjiang – Bountiful River – county. At Hornbill Valley, we find a fine mix of birds including hornbills, which are huge yet mainly eat tiny fig fruits, in protected forest that's barely safeguarding some from extinction. A village that served as a way station for logging trucks is now a forlorn place, to me recalling the one horse towns you see in western movies. Here, only a stream separates us from Burma.
But there are thriving places. Ruili, the main border city, is mentioned in media reports for a substantial drugs trade plus related shenanigans, but to us seems like a laid-back south China city, with ladies riding scooters complete with sun umbrellas along tree-lined boulevards.
On our last morning, we visit Puti Temple, which abounds with colour, especially gold. It's on a low hill, topped with the Menghuan Grand Golden Pagoda, which was built last decade. There are richly detailed statues of monks and elephants, a reclining Buddha with a splendid Tree of Life painting as backdrop. Not only does it eclipse Hong Kong's Po Lin Monastery area, this complex surely rivals the best temples I've visited in Thailand. Yet I'd never heard of it before; thanks to seeking birds, and Hofai's expert knowledge, it's among the fascinating places we've found in a land so close to Burma.
Written for the South China Morning Post.