This is a perfect, tropical morning. With the sun just rising, palm trees cast long shadows on the beach, their fronds etched in sharp silhouettes. Close inshore, fishing dhows dot the languid, blue sea. Hundreds of terns – elegant, white seabirds – dip amongst them, searching for small fish.
Today, this place seems wonderfully peaceful. Yet just months ago, the sea rose, swept in across the sand and into a resort's restaurant, sending diners and waiters rushing to safety. Here, on the west coast of Sri Lanka, the tsunami was startling, but caused little damage. Elsewhere, though, resorts and coastal communities were wrecked, tens of thousands of people died. And yet, my wife and I have come to Sri Lanka on holiday.
We've come after reading and hearing of the need for tourists to visit Sri Lanka, and so help the many people whose livelihoods depend on tourism – and after learning that Sri Lanka offers marvellous attractions, with no need for us to stay in damaged places.
We're beginning a journey through this teardrop shaped island, which was once called Serendib – giving rise to the term serendipity, for unexpected, fortunate discoveries. Later, to the British, it became Ceylon, an exotic country in the east, with elephants, gems, temples, tropical trees and flowers, and tea plantations in the hills. This is the land we are about to explore, on an adventure blending Sri Lanka's wildlife, scenery, and rich cultural heritage.
To Sri Lanka's Cultural Triangle
From the resort, our guide and driver Wicky Wickremesekera takes us northeast, towards the region known as the Cultural Triangle. We cross a small river, and he announces, "We're entering the dry zone." This is a reminder that, though just 350 km long and 180 km wide, Sri Lanka is a diverse island; the two seasonal monsoons coupled with extensive plains and central hills result in strikingly different landscapes, and an array of habitats for plants and animals.
We pass villages and farmhouses amidst groves of trees, lush green after unusually heavy rains, and arrive at the Teak Forest Lodge. Here, former hotelier Kamal Hettiarachchi has built wooden cabins in the shade of teak trees. Hettiarachchi chats as he serves a spicy lunch in his open-air restaurant; a flock of birds moves through the trees, with a brilliant yellow oriole amongst the leaves, a black-and-red woodpecker climbing tree trunks.
Relaxing here is pleasant. But we came to this region mainly for the historical sites, especially the one that's been called the Eighth Wonder of the World – the great rock fortress of Sigiriya.
Sigiriya
Wickremesekera reckons it best to climb Sigiriya towards late afternoon, and we at last set off, driving a dusty lane, and turning to a narrow road beside one of two moats that almost encircle Sigiriya, and enclosed a complex including gardens and settlements, centred on the rock itself.
Langurs – slender, grey monkeys with black faces – lounge on a slab of rock and in trees. Crossing the inner moat, we follow a path through water gardens, where a maze of hidden pipes still transports small streams that bubble into rock channels and pools.
The rock looms ahead. Imposing, rounded on top but with almost sheer sides, it's like Australia's Uluru (Ayer's Rock), but set amidst gardens and woodland. We climb steep flights of steps, pause at an overhang with frescoes of topless maidens, and arrive at a level platform that's been cut from the rock.
There are more steps leading up from here, between two huge paws, which are all that remain of a giant lion statue that sat high on the rock. It must have been an awesome sight – and intimidating for visitors, for the steps once led up through the lion's mouth. Heading past the paws, I climb narrow metal steps that cling to the steep, smooth rock face, to the top of Sigiriya, some 180 metres above the surrounding plain.
Sigiriya was built by King Kassapa, who seized the throne from his father, whom he imprisoned and later killed, and ruled Sri Lanka from 477-495 AD. He chose the rock as it could make a fortress against potential assault by his brother, who had fled to India. There was a palace on the rock, but the buildings have gone, and I find only their foundations, a large pool hewn into the rock, and a stone throne, where Kassapa could survey the land beneath him, and perhaps believe himself a god-king.
But Kassapa was no god. When his brother indeed returned, Kassapa went to meet him in battle. The elephant he was riding swerved, his armies retreated, and Kassapa beheaded himself rather than be captured. Claiming the throne, Kassapa's brother switched the capital back to its former city, and Sigiriya was handed to Buddhist monks.
The sun is setting as we descend Sigiriya. All around us, the land appears green, with woodland broken by small lakes, and hills to the south and west. We've seen there are many farms and villages, but just as in Kassapa's time, this area is a haunt of wild elephants. And tomorrow, elephants are on our itinerary.
Elephants, Buddha carvings, and south to the Dambulla cave temples
We find elephants soon after leaving the forest lodge. Two stand right by the road. But these are working elephants, in a village that specialises in elephants for hire. We pass a mahout walking an elephant along the road – perfectly normal here, but an odd sight to us.
There's more sightseeing at Polonnaruwa, Sri Lanka's capital city from the 11th to early 13th centuries. Here, we make a series of halts at historic sites, including the ruins of a palace that was seven storeys high, and a former library. Under a scorching midday sun, we walk to the Val Gihara statues: three sublime Buddha carvings in a low granite cliff.
Buddhism remains at the core of life in Sri Lanka, and we find cattle egrets seem almost indifferent to people walking close by – small white herons, they search grassy slopes for insects, barely moving as we approach.
After a "rice and curry" lunch, we clamber into a jeep, for a game drive, to search for some of the hundreds of elephants that roam Minneriya National Park and nearby areas. Turning off a metalled road, we're soon bouncing along a rough track through tall grass, shrubs and trees – a scene recalling African savannah.
Lurching over a gully, we find our first elephant, a couple of hundred metres or more away, ambling towards a wood. Others follow, including two females with a calf that's almost hidden by the grass. Then, back to the main road. "The elephants like to come near the road in late afternoon," says Wickremesekera, and we're soon watching a bull grazing in full view.
Two jeep drivers alert us to more elephants that have been found nearby, and we join people spilling out of jeeps, and crossing railway lines to see at least five elephants that are walking through the trees and grass. It's almost nightfall: time to return to the lodge.
Noticing traffic has stopped in front of us, Wickremesekera says, "There's an elephant crossing the road!" We drive up to find the elephant – a bull – little more than ten metres away. He's enormous, way taller than we are as we stand in the jeep, and emanates powerful self-confidence. Seemingly oblivious to such trivia as admiring humans and passing cars and trucks, he trundles slowly away.
After another night in the lodge, another magical dawn as mists grace a small lake (with a peafowl in a treetop silhouetted against the rising sun – a new bird for me), we turn south. We call in at Dambulla, where wonderful tranquillity permeates the cave grottoes with their Buddhist paintings and carvings. Then, the roads lead us up, into the hills.
Into the hills, and the view from World's End
Following roads like English country lanes, we wind up from the low areas with their palm trees, to pass through tea plantations on rolling hillsides, and arrive at a highland hotel hailing from colonial days. Here, at 4 am the next morning, we drink local tea in a cosy front room, ready for a pre-dawn drive to Horton Plains, and an early search for an elusive, special bird.
There's a brisk, chill wind blowing as we wait on the fringe of a wood, with first light seeping through misty clouds. We hear a thin, shrill call behind us. "Sri Lanka Whistling Thrush!" whispers Wickremesekera, and we turn to see a bird fly from the shadows, into dense undergrowth.
The thrush sings, a soft warbling, flies again and perches, tantalisingly out of sight. Then, it comes closer, and sings in full view. It's compact, indigo blue: not a spectacular appearance, but this is a world rarity, found only in the highlands of Sri Lanka, and is among the 33 bird species that are unique to this island.
We walk through the woods, finding more birds. Then, with the fast rising sun baking away the mist, we drive on, past rolling, grassy moorland with small herds of sambar deer. Two tame sambar deer stand by the entrance to Horton Plains National Park; they watch as we enter, and walk a footpath crossing a stretch of moor. Turning left, we enter a wood.
On this cool, moist plateau over 2000 metres above sea level, the trees are small, yet look old and wizened, their branches hung by wispy beards of moss. The path leads us to an abrupt escarpment – World's End. Cliffs drop away from us, to foothills rolling down to the plain, where a reservoir shimmers in the distance.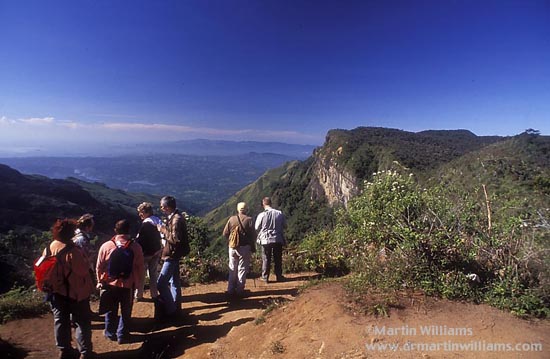 Now we've seen what the end of the world looks like, we're bound for the lowlands again – for the southeast coast, and Yala National Park.
Yala National Park
Parts of Yala were badly hit by the tsunami. At our request, Wickremesekera shows us the ruins of the safari game lodge, where brick walls lie shattered, trees have become skeletons. There's the floor of the building where he stayed – when the waves struck that fateful morning, he was already in the park, just leaving a beach where he liked to stop for a tea break. Wickremesekera looked back, saw a wall of water, heard roaring, and yelled to his driver, "Go, there's a wave coming!" With water surging close, they raced inland, found safety on a low ridge.
Now, he has returned: eco-tourism is Wickremesekera's career, he has spent countless days at Yala, still loves this place. The lodge will be rebuilt, perhaps nearby, perhaps with a memorial. On this calm afternoon, we offer silent prayers to the victims, here and across so much of Asia.
We stay at a nearby, undamaged hotel, and early the next morning find a waiting jeep with driver S.K. Amarasiri, who will take us on a game drive through the park. He, too, depends on ecotourism for his livelihood, and though two drivers who were friends of his died in the tsunami, he wants tourists to return.
Amarisiri seems to have eyes in the back of his head, as he navigates us along the dusty roads through thorn scrub. He's forever pointing out birds and mammals, stopping so we can see painted storks that festoon a small pool, wild boar with stripy piglets running behind them, a ruddy mongoose with its tail turned up at the tip, spotted deer on grassy patches, a peafowl with his long tail feathers spread in an outrageous fan.
Wickremesekera is also finding wildlife in all directions; likewise a tracker from the park service. So I'm astonished when I glance ahead, and see an animal resting by the road just in front of us.
"Leopard!" I exclaim, and we stop. The leopard's lying on the grassy verge, and watches with apparent indifference as we drive slowly closer. He's a young male, Wickremesekera informs us. He stands, walks a few paces, and lounges under a bush by the road. Again, Amarisiri brings us closer. The leopard looks at us with intense, fearless eyes, sets his head on his front paws, and dozes right next to us.
"He must have just had a big meal," says Wickremesekera. "His mother is probably nearby." We're with the leopard for an hour before he stands, walks towards us the jeep, then trots along the road as another young leopard emerges to join him. "His sister," says Wickremesekera. A jeep approaches from the other direction, and they calmly walk off, into the dense scrub.
After a siesta by a river, we continue our safari, with afternoon highlights including an elephant that strides across the road just behind us, and a mugger crocodile perhaps five metres long, stock still by a pool.
Sinharaja Forest Reserve
Way too soon, our Sri Lankan adventure is almost over. We have just enough time to stop at the Sinharaja Forest Reserve, Sri Lanka's only natural World Heritage site. Here, we spend a night in a lodge by the rainforest, where we walk easy trails, and find orchids with flowers topping long, thin stems, a brilliant green, hump-nosed lizard that flicks out a yellow "flag" on its throat, and flocks of birds with more species found only in Sri Lanka.
The best of these is arguably the island's star bird – Sri Lanka blue magpie. Three fly in to branches just above our heads, so we can admire their tropical blue plumage, brown heads, long tails, and intense red bills and legs. They flop down to branches above a stream. Then, they move deeper into the forest. Soon afterwards, we too depart, replete with fortunate discoveries in this land of cultural treasures, and living gems.
This article first appeared in the June 2005 issue of Discovery (Cathay Pacific Airways' inflight magazine).